Great Things Come in Small Packages at Box Kite
A bright, clean sliver of a place on the shop-packed street that is St. Mark's, Box Kite would be easy to overlook. Once you're inside, it would be equally easy to think you'd found a neat new coffee shop – and you'd be half right. Yes, Box Kite serves unusual craft-roasted coffees, but its liquid assets go far beyond the bean.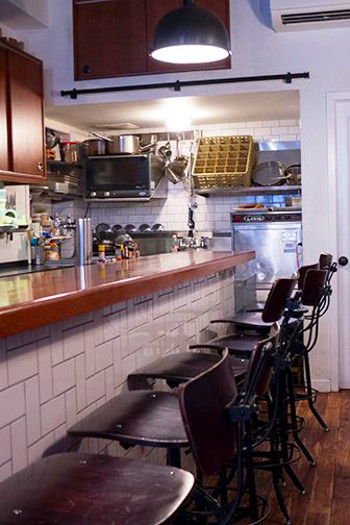 It's a happy daytime fact that Box Kite creates a seasonal coffee menu featuring rare, high-quality estates and roasters. When morning sidles into afternoon, afternoon eases into evening and evening deepens into night, that penchant for quality takes a turn toward the fermented. "We were originally just going to be a coffee shop," says co-owner, Cora Lambert. Fortunately for New Yorkers and well-informed visitors, they went a step beyond "just coffee". "Just" isn't a modifier you'd apply to Box Kite's beans or brews – brews of any kind.
There aren't many draft beers since Box Kite is a tiny place. There are just two taps, but it wouldn't make much sense to have a slew. Craft aside, the two drafts will be as unlike as can be: dark and light, subtle and hearty or bitter and fruity. Bottles and cans are displayed behind the bar. Here, too, the craft and the seasonal take pride of place. Wines and ciders are from all over: New York, Germany, France, Oregon, Spain – any producer that can catch and keep Box Kite's interest. Consider it curated diversity. You can go to Box Kite with a European cider aficionado, a wine lover, a beer geek and someone who just wants to drink water and eat exquisite food, and everybody will be pleased.
If being in Box Kite reminds you of being in a cocktail lounge, then you're not lost in an illusion. Most coffee shops have tables. When Lambert set up the East Village shop, she wanted it to be like a bar or open kitchen, where patrons sit, talk with the cooks or bartenders and watch their food and drinks being made.
From the other side, that demands making an art of production, as well as presentation. It's no surprise that Box Kite's coffee character is about more than pour-overs, lattes and cappuccinos. "We take an interest in using coffee in other ways," Lambert says. "We have signature drinks on the menu. I hesitate to call them mocktails." She may be right to step back from that word. Mocktails feign being cocktails. Pretense-free, Box Kite's concoctions are tempting nonalcoholic drinks in their own rights. One – served only on the Upper West Side -- is The Unicorn; barrel-aged maple syrup and smoked sea salt solution, half-and-half and cold-brewed coffee. An antidote to any number of bad choices, the Espresso Tonic is composed of Fever Tree tonic and espresso, and served on ice. As Lambert puts it, "We want to be your daytime bartenders."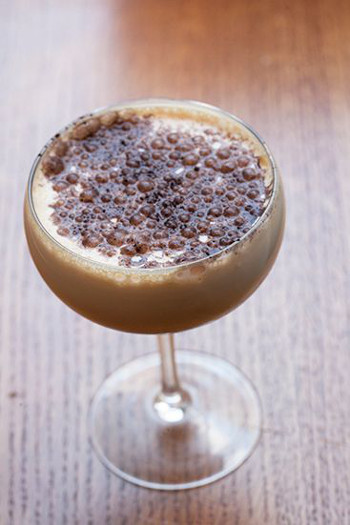 When Box Kite started, that meant coffee concoctions – ones built on staff skill and Lambert's background in cocktails. In order to start a beer and wine program, they had to offer food. "We weren't going to serve just ordinary food, of course." Box Kite's daytime pastries are fresh enough to topple anybody from a fat-free diet. After dark, Box Kite becomes a food maven's dream come quietly true.
Box Kite's evening menu is not the stuff of the everyday coffee shop. There are a la carte and tasting menus. A sampling of plates gone by: cheese and charcuterie with garlic aioli and pickles; foie gras, hot or cold, served with cranberries, granola and house-made yogurt; seared scallops with yuzu buttermilk; duck with blue foot mushrooms; chocolate chip cookies with Kirura coffee ice creams . . . Go for dinner and the complements and contrasts on the plate will bring out different elements of whatever you choose drink. Don't pin the online menu to your calendar; Box Kite's food, like its beer, wine, cider and coffee, changes as often as a model changes clothing during Fashion Week.
Wines, beers and ciders are on offer as of 11 AM. You can pop by for a brew, glass or cup at any time. Dinner is served Tuesdays through Saturdays from 5:30 until 11 PM. Bear in mind the size of the place (extra small) and call ahead. The number is 212-574-8201. The a la carte menu is first-come, first-served, and there are all of 12 seats. There's a six-seat bar where Box Kite's choice of future-famous chefs serves a tasting menu. To make a reservation, drop Box Kite an email – and if you're a chef who wants to design a dish or a menu, then let Box Kite know.
The new Upper West Side location is a coffee- and pastries- only joint. On 72nd, between Columbus and Amsterdam, it's a sweet spot to get warm. Drop by any time between 7 AM and 6 PM. Steven Latham, the manager of Box Kite's northern outpost, made it to the finals of the hotly contested Big Eastern Coffee Competition, a win that takes him to the United States barista championship. You can't get alcohol or dinner at the UWS location, but you can get coffee prepped by award-winning hands. It isn't a bad bargain, especially on an icy day.
Back to Box Kite's southeast base: On Sunday and Monday, the East Village location is open from 7 AM to 9 PM. From Tuesday through Thursday, it's open until midnight. Friday and Saturday, it's open until 2 AM.
Among the greatest compliments Box Kite receives is the fact that employees come there to hang out, or to spend a few hours working, during their days off. They like each other, the place and its offerings enough that they'd rather be there than anywhere else they could be. As ratings go, that passes five stars and keeps on rising.
When you're looking for a last drink in the East Village, think of a coffee shop that's more than meets the idle eye. End your day where other people start theirs. It's the sort of thing any real New Yorker would do.
Box Kite; East Village: 115 St. Marks Pl.; 212-574-8201; Upper West Side: 128 W 72nd St.; 212-574-8202
Box Kite mascot, bar and The Unicorn drink images by Seanan Forbes
Tags:
Beer
,
Cocktails
,
Coffee
,
Food
Recent Articles

Feedback
How are we doing? Tell us what you like or don't like and how we can improve. We would love to hear your thoughts!