Bars That Will Ease First Date Tensions
Wanna get drinks?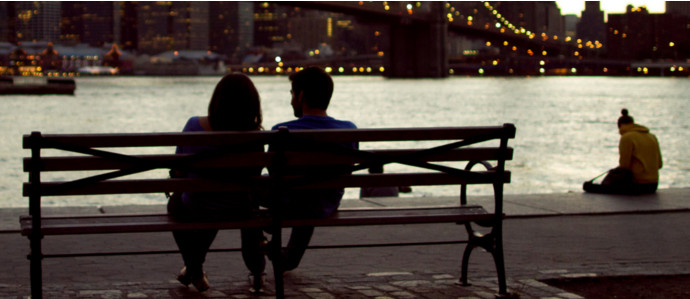 First dates can be a little overwhelming, to say the least. Sweaty palms and awkward pauses come to mind. Thus, many people turn to alcohol to help ease the tension, but some bars facilitate the getting-to-know-you process better than others. The following work well as first date spots because overall, they're pretty laidback. More importantly, however, they'll provide you and your date with worthy distractions for those inevitable, uncomfortable silences.

The Ginger Man
A wide selection of beers makes this a fun place to go with a sort-of-stranger. You can make a game out of trying the different varieties. The space is big enough, too, that you can find either a quiet corner together (and sit intimately close because of the surrounding babble) or blend into the crowd when you're just easing into the evening. (11 E 36th St.; 212-5323740)

Lady Jay's
This bar sends just the right first date impression—it's chill and low maintenance, easy-going without approaching seedy. There's also a backyard so you can get a change of scenery and some fresh air as the date progresses. (633 Grand St., Brooklyn; 718-387-1029)

Videology
This bar screens movies on the regular, providing you with a constant conversation piece. It's a solution to the dinner-and-a-movie classic if you also want to get a little tipsy. You can rent movies there, too, so go ahead and pick up a flick together if the evening goes well enough. (308 Bedford Ave., Brooklyn; 718-782-3468)

Beauty & Essex
Also a restaurant, this is the kind of place that impresses a date…if you're willing to spend a little more money on the evening. The cocktails are imaginative without getting too pretentious, and the appeal of it being a "hidden" spot (the entrance is a door in the back of a pawn shop) makes it feel more like an adventure, as does the fancy décor. (146 Essex St.; 212-614-0146)

Pips
This is more a place to play ping pong than it is a bar, which gives you an activity and may impress your date because it's out of the ordinary. Modelos go for more than they would at the grocery store, but it's worth the experience of holding onto the can in one hand while you clutch your ping pong paddle in the other. (158 Roebling St., Brooklyn; 347-674-7706)

Bar None
If you want to go for something a little rowdier over the weekend, this may be your spot. The crowd is young, the atmosphere is lively and you're given a license to get a little more inappropriately drunk than other first date spots would allow. Just make sure your date isn't a teetotaler and likes getting a little weird on the weekends. (98 3rd Ave.; 212-777-6663)

The Pony Bar
There's definitely a decent selection of craft beer here, and like many of the other bars on this list, it fits perfectly in that space between divey and swanky. Nothing's too pricey and the servers are knowledgeable. Overall, this bar is the kind of place that will put you at ease, even when your heart's pounding over whether this near stranger will take a liking to you or find you repugnant. (637 10th Ave.; 212-586-2707)
Photo via Flickr
Tags:
Beer
,
Cocktails
,
Food
,
Spirits
Recent Articles

Feedback
How are we doing? Tell us what you like or don't like and how we can improve. We would love to hear your thoughts!