Hot & Spicy Cocktails for International Hot & Spicy Food Day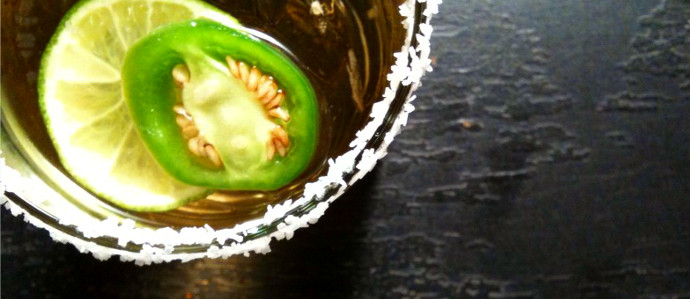 January 16 is International Hot and Spicy Food Day. In this season, some of us are thinking along the lines of "hot and spicy drink". There's more than one way to heat a winter's day. New York bartenders are bringing spice to cocktails – and we aren't talking about your great-grandfather's Bloody Mary.
Lean back into the Boilermaker's relaxing atmosphere and introduce yourself to a relative you've never met: Uncle Jalapeño. Based in blanco tequila, this spicy sipper incorporates Prince Robot's pineapple soda and a healthy hit of the pepper that gives the drink its name. It's sweet, savory and almost as satisfying as having a fireplace in your studio apartment. Okay, it's nowhere near that satisfying, but it will definitely melt the stalactites from the most chilling day. Boilermaker's liquid know-how comes from Don Lee, Erick Castro and Greg Boehm, and it isn't shocking that they know how to put warmth on ice. Still, given that the East Village bar's reputation is built on shots, chasers and chef Miguel Trinidad's built-to-match-the-booze burgers, the pepper-backed Uncle Jalapeño comes as a hot surprise.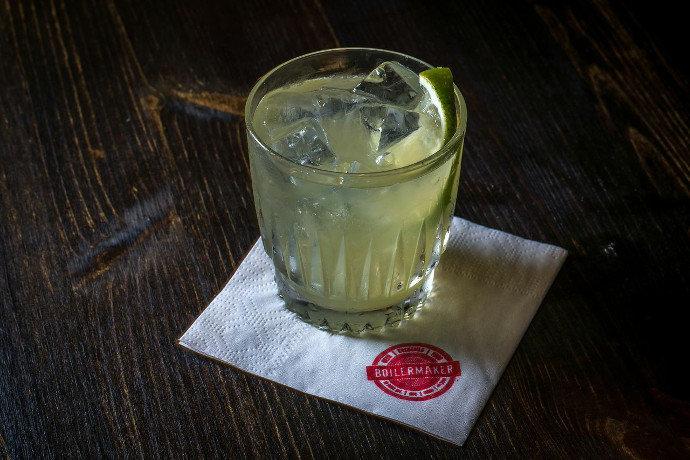 Dovetail is best known as a fine-dining restaurant, but the bar is a comfortable place to lounge away the hours. Bask in fading light through the tall, clean window, or watch the night settle over the Upper West Side. The cocktail of winter choice is The English Breakfast, which gets a hint of heat from grapefruit marmalade made with pink peppercorns. Other elements of the drink are gin, citrusy Aqua de Cedro and sparkling wine.
Escape the bustle of daily demands and seek peace and spice in Greenwich Village. At Analogue, the Mata Hari gets its "woman in a red dress" hue from pomegranate juice, its citrus spark from lemon juice, its spirit from cognac, and its spice from chai-infused vermouth.
A ten-minute walk from Analogue, the Dream Downtown has a couple of places with heat-bearing liquids. At first and second glances, Bodega Negra's Spicy Spiked Hot Chocolate could pass for dessert. With tequila and chipotle pepper, it is anything but innocent. There are also plenty more savory choices at Bodega Negra. The Solstice has Cazadores reposado tequila, fresh pineapple juice, fresh lemon juice and cinnamon bark syrup. Made with Patron silver tequila and fresh lime juice, the Blood and Fire gets two kinds of fire – for the eye and the tongue – from spiced hibiscus syrup. On the smokier side, the Spiced Celery Sour has jalepeño syrup, lime and celery-infused Montelobos Mezcal. The other restaurant within Dream Downtown, Cherry, may be known for its Asian-inspired desserts, but the cocktails merit a visit. In this season, the Warm Winter Crisp – served warm, with a sharp note of jalapeño agave – is friendship in a glass. Then there's the Cherry Bomb: Corralejo tequila, cherry jam, black pepper agave and lemon. The Ringo Star, made with calvados, shiso, lemon and sansho pepper-dusted Fuji apple, is an affordable stand-in for a trip to a warm exotic land.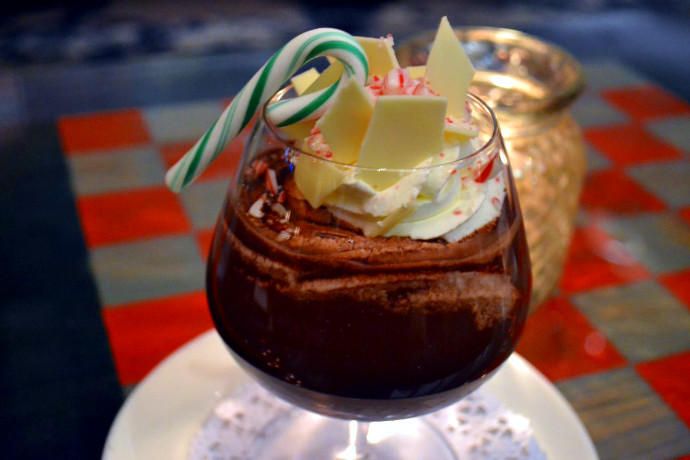 Beer-lovers will find hot happiness at another Village spot: Rosemary's, where the house Michelada is made with Narragansett, lime, celery, plus jalapeno syrup. Pair that with farm-fresh food, a cheese plate or salumi, and breathe the ease. The restaurant's food-producing rooftop garden may be a bit frosty right now, but you don't have to be.
Midtown is not without chilled heat. TY Bar, at the Four Seasons, has a drink named for its cross street – and its building number, making it an easy drink and location to recall. The 57th Street Poire blends Grey Goose Poire, pear juice and lime with cinnamon syrup and Angostura bitters. It's sophisticated enough to earn a spot a stroll away from Bergdorf, Tiffany and 24 daily hours of Apple megastore, with cinnamon's boldness to remind you that you're still in New York.
If the city has one spicy drink destination, then it might be the Flatiron District. More accurately, it might be The Breslin. The Ace Hotel bar has a plenitude of cocktails with feisty seasonings. With drinks that are strong, subtle, boozy and spirit-free, there's something to fit every taste, making The Breslin a perfect choice for a solo or a group outing. The Bloody Maria – still not grandpa's glass – sports Pueblo Viejo tequila, chipotle, salt and a cornichon. Also featuring cornichons, the Red Snapper is based in Beefeater and tarted up – in the English sense of primping for a night out on the town – with a house blend of spices. The nonalcoholic Little Jumbo Ginger Brew has ginger and organic spices rounded out with fresh Thai basil. It's good enough to make a no-drinking resolution pleasurable. Made with lemongrass tonic, the house Gin and Tonic has a hit of allspice. It doesn't have an in-your-face heat, but rather an intriguing complexity. The Headless Horseman gets its rich flavor from a blend of Old Forrester bourbon, pumpkin ale, Ramazotti, spices and pressed lemon. The El Diablo has Pueblo Viejo reposado tequila, Lejay cassis, Little Jumbo ginger brew and fresh lime. This is a devil all grown up and smart. The Baked Apple Old Fashioned gets its spice from rye, its sweetness from reduced apple cider and a fruity boost from Laird's applejack. While the Winter Negroni packs no heat, it deserves winter mention for its Lapsong Souchong infused Beefeater. Tea-smoked gin, Cynar and Cocchi Torino are all one could seek in a glass of warmth.
With one of New York's spicy cocktails in his belly, even a snowperson would be happily snug, whether or not the day is dedicated to heat.
Photos: Top (Flickr), Uncle Jalapeño (Boilermaker), Spicy Spiked Hot Chocolate (Bodega Negra)
Tags:
Cocktails
,
Spirits
Recent Articles

Feedback
How are we doing? Tell us what you like or don't like and how we can improve. We would love to hear your thoughts!