PicoBrew's Zymatic Brews Craft Beer at the Touch of a Button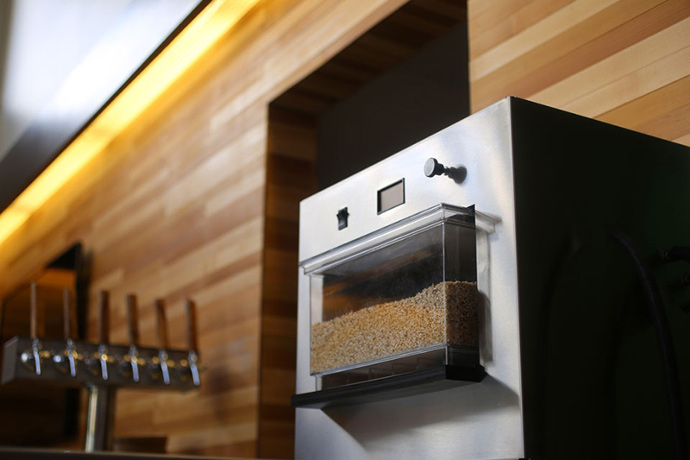 What happens when you combine the technological knowledge of a former Microsoft Corporation Vice President and a love for home brewing? Seattle-based company, PicoBrew, has given the world the gift of delicious craft beer at the push of a button.
Co-founder and CEO, Bill Mitchell, calls PicoBrew's Zymatic "the world's first automated beer-making machine." The Zymatic is a machine no bigger than a microwave with a five-gallon Cornelius keg attached, and it's super easy to use. You can borrow a recipe from the PicoBrew online library, or if you're feeling creative, come up with your own. All you have to do is pour your malted barley, grains, and hops into the designated compartments, and press a few buttons. Fast-forward about four hours and a week of fermentation, and you have ready-to-drink craft beer, right in your own house.
Mitchell's idea to simplify home brewing turned into a Kickstarter campaign last year. With the help of Jim Mitchell, his brother and food scientist, and Avi Geiger, another former Microsoft employee, the three were able to raise well beyond their original goal of $150,000. This has not only allowed the Zymatic to give everyone a chance to have a household microbrewery, but it can also be used on a professional level. Breweries can use the Zymatic to test smaller batches of their beer before producing it on a large scale.
Here's the catch: the price tag is a hefty $1799. Mitchell told Businessweek that he's hoping to lower the price of the Zymatic, and that he wants it to become as common as a home espresso machine.
Photos via PicoBrew
Tags:
Beer
Recent Articles

Feedback
How are we doing? Tell us what you like or don't like and how we can improve. We would love to hear your thoughts!