Liquor Store Lowdown: Sherry-Lehmann Wine & Spirits
Santa's Champagne Workshop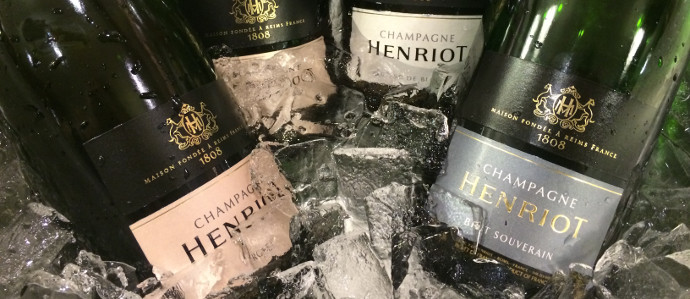 Stepping into Sherry-Lehmann Wine & Spirits on Park Avenue at the corner of 59th Street in December is like stepping into Santa's merry, alcoholic workshop. Numerous employees/wine reps stand behind various wine glasses and champagne flutes stretched out across the long, L-shaped counter, beckoning patrons to try a sip, or a gulp, or whatever.

Basically, the place begs you to get into the holiday spirit, like it does every holiday season with 21 consecutive days of champagne pouring. Seven days deep into the event when I visited the store, Sherry-Lehmann was also celebrating its 80th anniversary.

The liquor store opened up in 1934, right at the tail end of prohibition, in New York City's Sherry Building—hence the name—at 682 Madison "where Hermès now is," explained Matt Wong, the store's general manager. At that time, the store went by the name Sherry Wine & Spirits, picking up the Lehmann in the 70s when it merged with its competition. Over the years, Sherry-Lehmann has moved its store four different times within the same general Manhattan vicinity, winding up at 505 Park Avenue, right near Bloomingdales and the 6 train.


To celebrate its 80th anniversary, Sherry-Lehmann has lowered its minimum free delivery cost from $100 to $80 (get it?) in addition to other promotional offers. The real selling point, however, seems to lie in the store's colorful history. It seems to attract celebrities, and the room where I spoke with Matt housed pictures of Andy Warhol signing wine bottles, the labels of which he designed, and Yao Ming, looking impressively tall next to Sherry-Lehmann's 5'9" CEO, Chris Adams. Just last year, Jeff Koons (whose recent collaborations also include women's clothing store, H&M) designed a label for a wine sold at the store, like Warhol before him (who designed for a 1975 Mouton Rothschild).

"The story goes that when these bottles were displayed at Sherry-Lehmann, Andy Warhol came in and started signing them, which turned into an event where anyone who came in to buy a bottle of Mouton Rothschild, Andy Warhol would sign your bottle," Matt told me, smiling at the thought. Today, the daily 3 PM to 6 PM champagne tastings draw in the crowds, and they'll do so until about December 21st…starting up again in time for New Year's Eve.

As Matt and I spoke, we sampled some Perrier-Jouët Blason Rosé champagne. That's one of the over 200 different bottles of champagne stocked by Sherry-Lehmann, which range "from non-vintage, going down to 1961 magnums of Billecart-Salmon, which are $6,000 a bottle," according to Matt. Best sellers at this time of year include Dom Pérignon ("by far…it's the name, the recognition"), Ruinart, Veuve Clicquot, Moët…all the big names, really. "They really step it up at this time of year," Matt explained, "largely because of the packaging. The boutique stuff doesn't do as well because you need the packing right now…it's 100% gift-giving."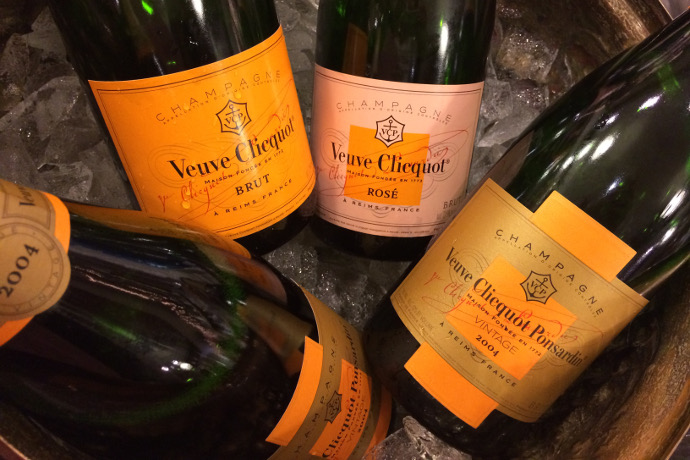 In addition to the 200-plus champagnes offered, Sherry-Lehmann stocks around 7,000 different wines from all over the world, stretching from South America to New Zealand and even China (which, Matt admits, hasn't quite mastered the art yet). "Pretty much every area of the world makes some kind of wine," Matt explained, "just like every region of the world has rice—there's not one region in the world that doesn't have some type of rice."

In keeping with this analogy, not all "rice" is within the average holiday shopper's price range. I asked Matt what champagne someone on a budget might buy for their New Year's Eve/holiday party from Sherry-Lehmann.

"Champagne's pretty much starting at $30 these days," he said. "Below that you're getting into sparkling wines and Proseccos." Sticking with the lower-end of champagnes, Matt mentioned the Nicolas Feuillatte, which is a $30 bottle, and Champagne Thiénot, which goes for $40, and, in Matt's opinion, "over-delivers" for the price.

Both of these champagnes also come in magnums for under $100, the solution to two-for-one in the world of classy, sparkling beverages used to ring in the New Year. Getting such hefty bottles for your holiday party (another Matt recommendation) "just makes for that much more of a party."

You can pick out a bubbly holiday selection for yourself at Sherry-Lehmann Wine & Spirits over on 505 Park Avenue in Manhattan. You can also call the store at 212-838-7500.
Photos by Sherry-Lehmann
Tags:
Gifts
,
Holiday
,
Spirits
,
Wine
Recent Articles

Feedback
How are we doing? Tell us what you like or don't like and how we can improve. We would love to hear your thoughts!