Boozy Classes, Courses and Workshops for Winter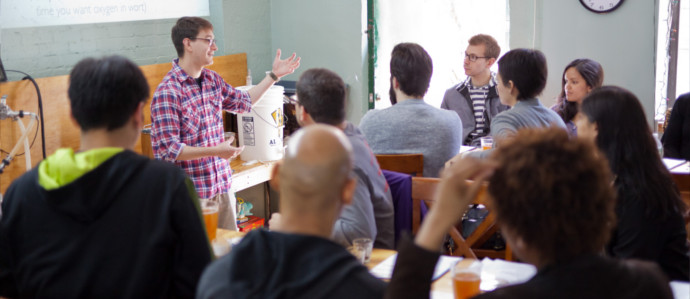 With winter settling in for a long chilly stay, it's time to look for indoor distractions. Wine, beer and spirit-loving New Yorkers can enjoy a cold-season harvest of classes, courses and workshops. You may find yourself sorry when winter – with its excuses for staying inside, where it's warm – yields to spring. A bonus: these sessions make excellent presents for people who already have everything, are hooked on boozy learning or simply do not want another pair of socks.
The American Sommelier Association has courses and seminars that last anywhere from hours to months. Sessions include in-depth programs for the would-be sommelier, easy introductions for newcomers to wine, blind tastings and regional seminars. ASA members get discounts and free offerings. View "Calendar" or "Education" on the website to see what's coming.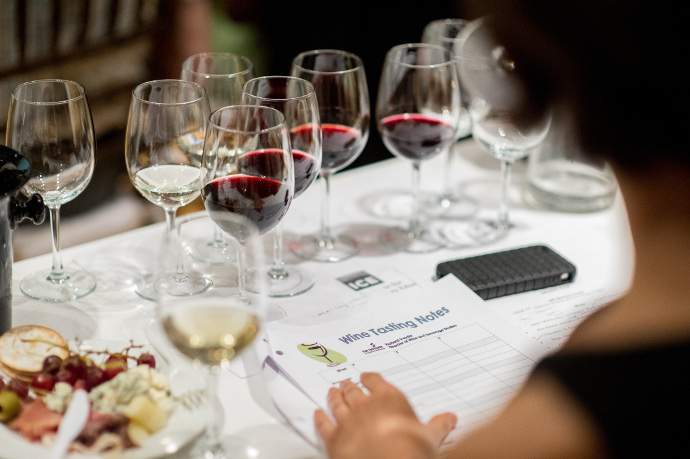 Get a behind-the-bottle glimpse of how wine is made, and enjoy samples of "made in New York City" wines at the Brooklyn Winery. Tours are led, not by know-the-routine tour guides, but by winery staff, affording visitors a tremendous opportunity to ask questions about everything from winemaking to participating in harvests to starting a winery or wine shop of their own.
Keep an eye on Sanctuary T Restaurant's "Events" page. Classes have roamed a range from tea-and-food pairings (We all need those detox days.) to the creation of tea-infused cocktails. If tea cocktails are among your cherished favorites, you can buy loose leaf tea from Sanctuary T too.
Instead of thinking "small and intimate", go large. Go where the pros started. The Institute of Culinary Education offers sessions that teach you about pairing takeout food with wine – diverse delivery included – get you on intimate terms with whiskey, bourbon and scotch, help you to master the basics of bartending and teach couples' courses in cocktail-making. If you want to go deeper, the ICE Center for Wine Studies has certificate programs. Whether you're playing for fun or potential profit, there's something at ICE for you.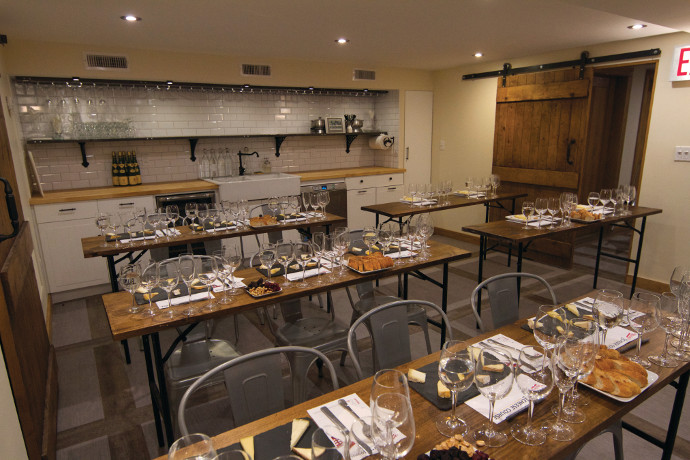 Murray's Cheese is a devotional to dairy. Learn how to match cheese with what you love. In December alone, you can learn to set cheese alongside scotch, beer and bubbly. Murray's promises that the 19th will be "The Most Decadent Night Ever" – a challenging proclamation, especially in New York City. Taste while you're learning about foie gras, truffles (not the chocolate kind), caviar and the best cheeses Murray's has in stock. What makes this spirited? Champagne, of course. The promise is decadence, after all. The New Year will bring New York State wine and spirits classes – paired, as you might anticipate, with cheese – and special couples' classes for Valentine's Day.
Murray's sometimes partners with City Winery to offer sessions for people whose love of cheese is equaled by a fondness for wine. Pairing cheese with wine isn't as simple as people are prone to believe. If you want to be truly good at what too many think is easy, then the Murray's-City pairing is a perfect place to start.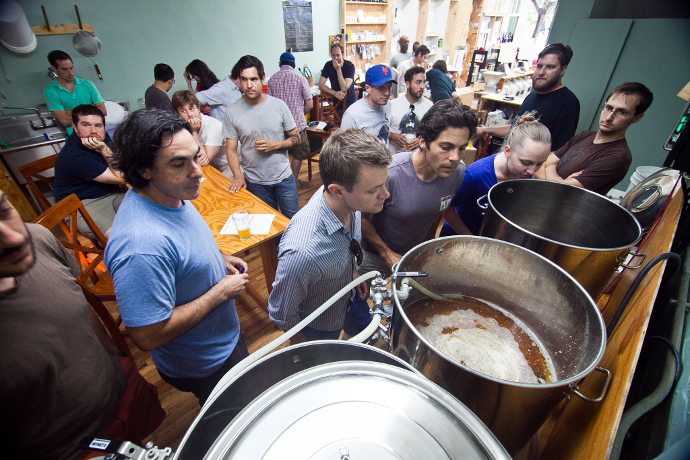 For those burning to begin home brewing, Brooklyn is the place to be. Bitters & Esters has Brewshops (like workshops, but yeastier). Starting at 101, essentials, the classes go up to 501, which covers all-grain brewing. Brooklyn Homebrew will also get you started in brewing. They can set you up with skills for making sour beers or get you hooked on beer and cheese pairings. For more temperate brewing, you can learn to make kombucha at Kombucha Brooklyn. Of course, kombucha works well in cocktails, so temperance may be quickly kicked off the wagon.
The Astor Center has been expanding its list of classes and courses. You can "get fizzy" with sparkling wines, take beginner-level and intermediate mixology, acquire an "in with gin", dip into Astor's cellar . . .This menu of options is one you don't want to forget.
For the boozy best, fix your eyes on the future. Bookmark the Manhattan Cocktail Classic's website. The annual celebration of all things cutting-edge, classic and spirituous takes place in the springtime. Popular classes and workshops sell out early, so you'll want to be among the first in the digital queue. 2014 is almost over. It's time to start planning a high-spirited year, or years, ahead.
Photo Credits: Top image by Carla Coria, Wines by Institute of Culinary Education, Classroom by Seanan Forbes, Beer Boil by Carla Coria
Tags:
Beer
,
Cheese
,
Cocktails
,
Dinner
,
Education
,
Food
,
Gifts
,
Spirits
,
Wine
Recent Articles

Feedback
How are we doing? Tell us what you like or don't like and how we can improve. We would love to hear your thoughts!