Home Bar Project: How to Make a Manhattan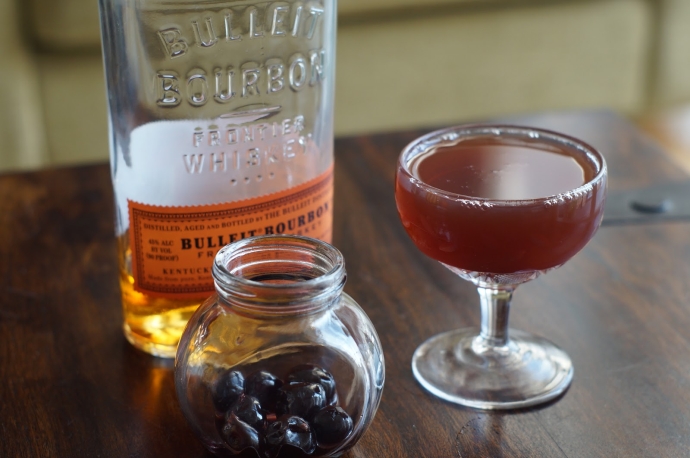 Have you ever dreamed of having an amazing home bar, filled with bottles you actually use and the tools you need to execute a fine crafted cocktail? Enter the Home Bar Project. Through this series we are going to take this challenge piece by piece. We'll teach you the proper techniques and make sure the spirits you purchase aren't collecting dust on your back bar.
About the instructor:
Dan Lan Hamm is a craft bartender at 1 Tippling Place in Philadelphia. He was Pennsylvania's winner of Bombay Sapphire and GQ's Most Imaginative Bartender Competition in 2014. He runs Spirit Forward, a cocktail-centric group which caters local events and provides educational workshops.
This week: How to Make a Manhattan
This week's cocktail, the Manhattan, has fuzzy beginnings. The most popular story says it originated in The Manhattan Club in New York, and was invented for a banquet hosted by Jennie Jerome, William Churchill's mother. Though this drink goes back about 150 years, it is still one of the most popular ordered drinks in most cocktail bars. You'll need to pick up sweet vermouth for this one, and avoid anything under the $10 range. A quality vermouth is what really makes this drink come to life.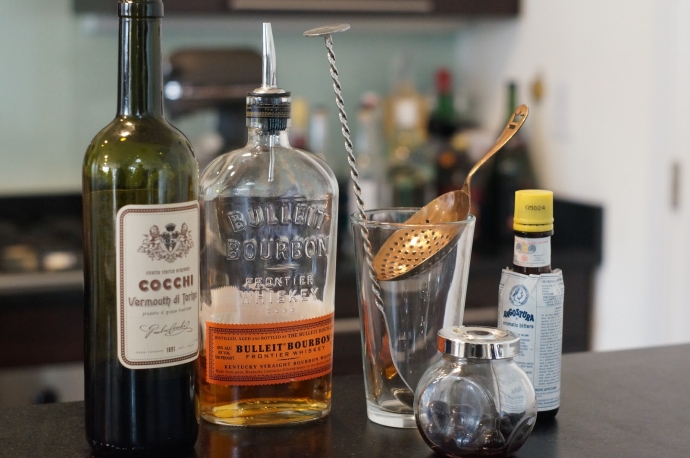 New Tools you'll need:
Julep Strainer (Amazon)
Ingredients:
2-3 dashes Angostura bitters
2 oz Bourbon
1 oz Sweet vermouth
1 Maraschino cherry
Note: The manhattan is usually made with rye whiskey instead of bourbon, however the purpose of the Home Bar Project is to keep the amount of ingredients low for your home bar, therefore for this recipe we're using bourbon. You may use whichever you prefer.
---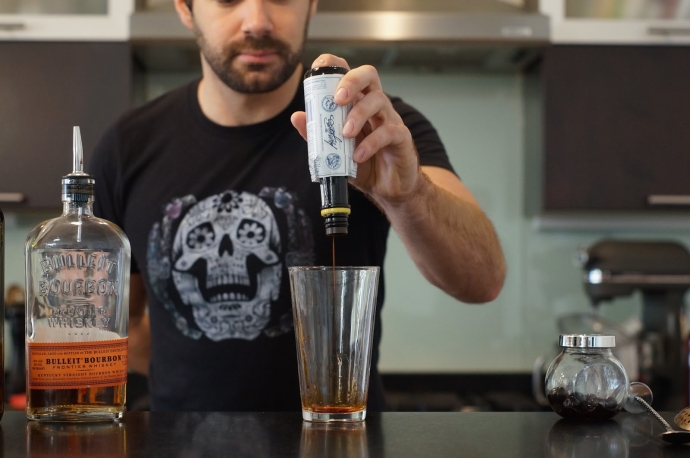 Step 1 of 9:
Add 2-3 heavy dashes bitters to a pint glass.
---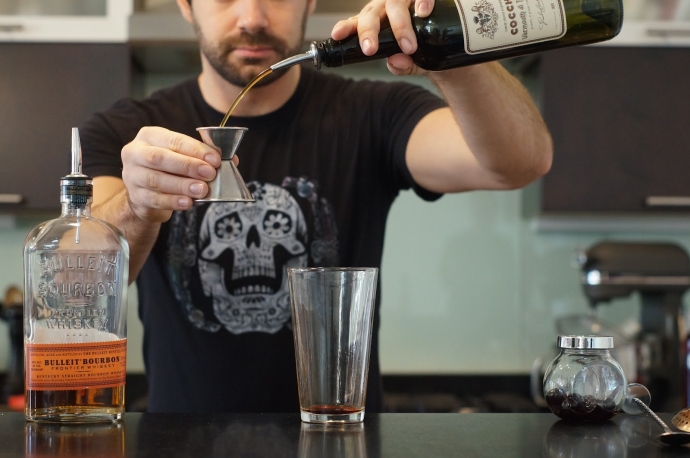 Step 2 of 9:
Add 1 oz sweet vermouth.
---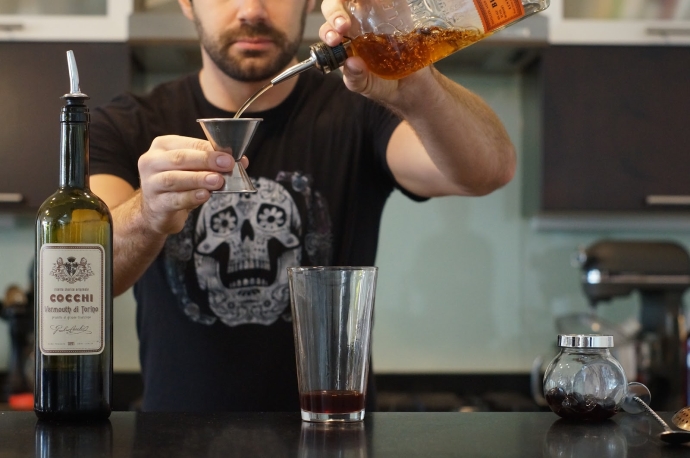 Step 3 of 9:
Add 2 oz bourbon.
---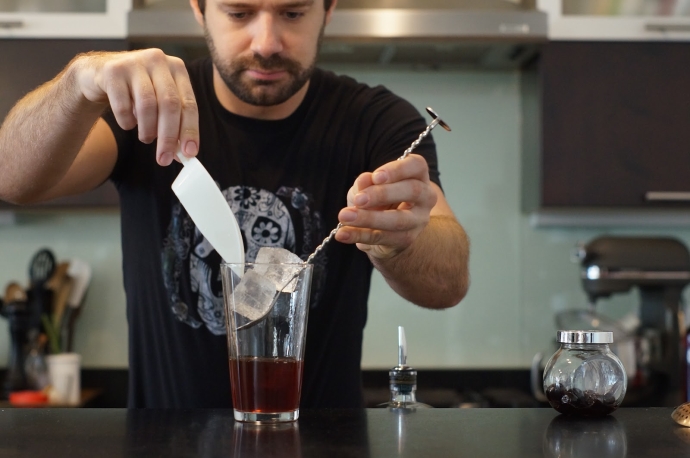 Step 4 of 9:
Gently add ice, and begin stirring. Use bar spoon to lower first few cubes to avoid spillage.
---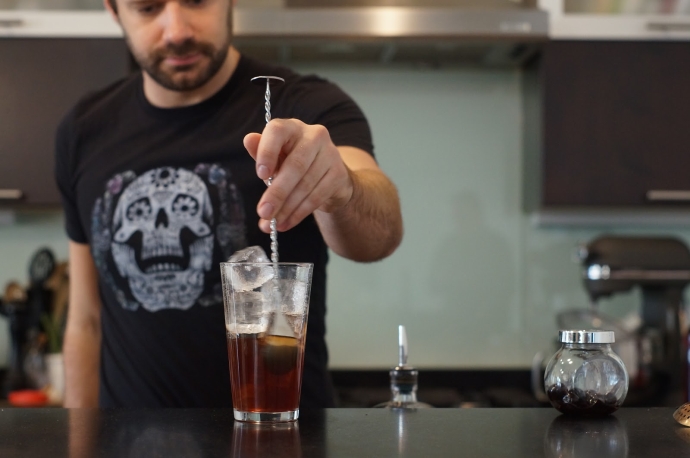 Step 5 of 9:
Continue stirring, filling up your pint glass to the top with ice. Make sure to continually add ice and keep glass full.
---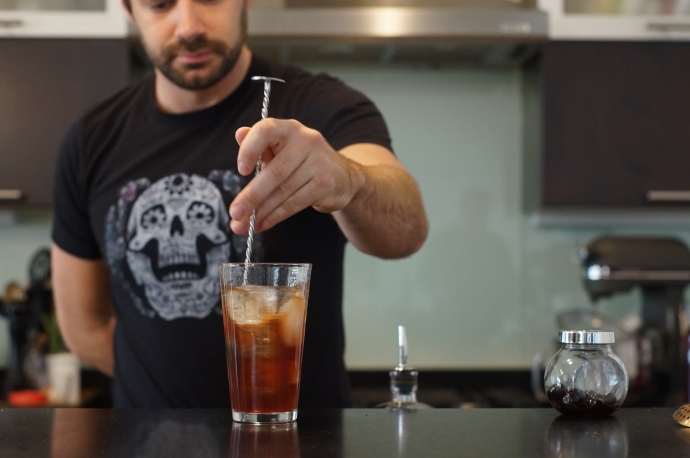 Step 6 of 9:
More stirring, more ice.
---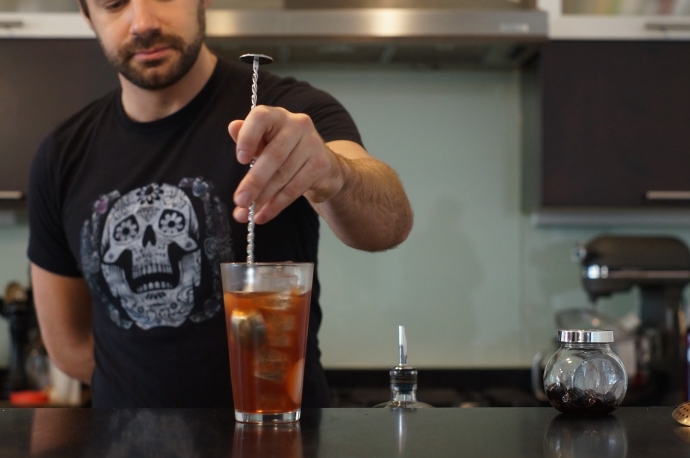 Step 7 of 9:
Yet more stirring, yet more ice.
When your glass is about 3/4 full like the above picture you are just about done, give it a quick taste and make sure its ready.
---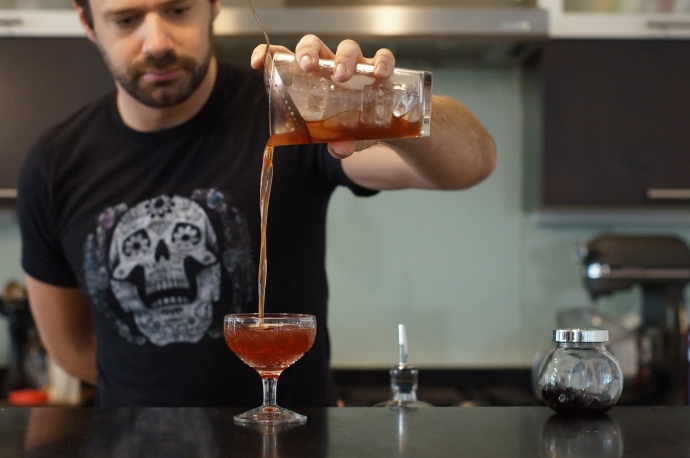 Step 8 of 9:
Pour through julep strainer.
Don't forget some flair, you earned it.
---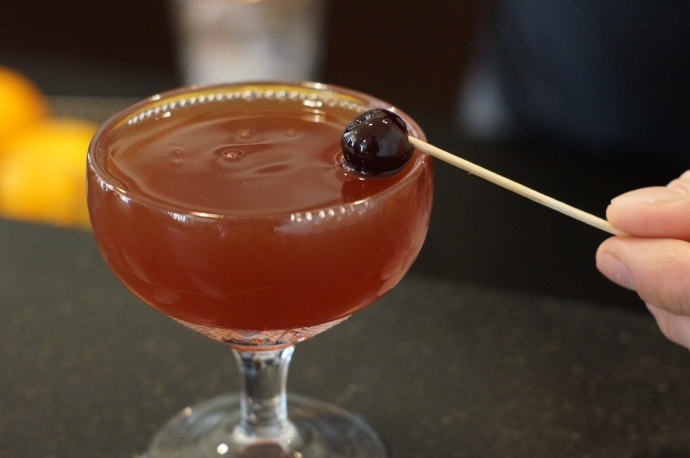 Step 9 of 9:
Add cherry and enjoy.
Make sure to avoid the glowy red cherries, the real things are much more delicious. Luxardo makes an amazing garnish cherry, a bit more pricey, but totally worth it.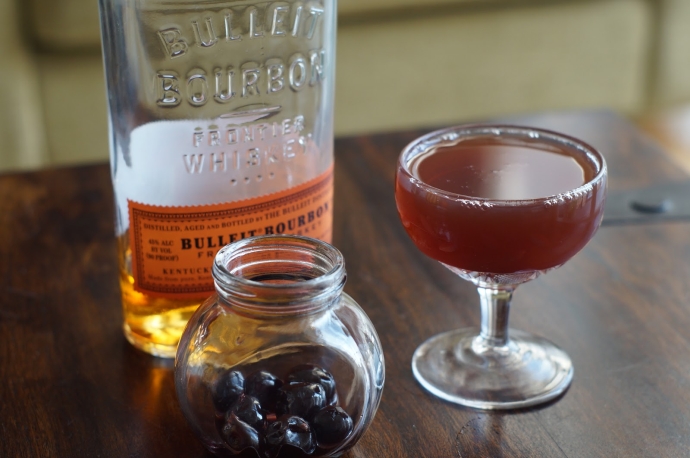 Enjoy!

Photos by The Drink Nation
Tags:
Cocktails
,
Spirits
Recent Articles

Feedback
How are we doing? Tell us what you like or don't like and how we can improve. We would love to hear your thoughts!