Liquor Store Lowdown: Vino Fine Wine and Spirits
Step outside your wine comfort zone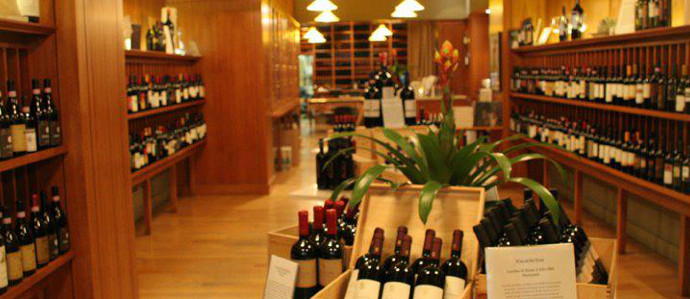 If you're looking for a helpful but not overbearing response to the question of what wine to buy with dinner tonight, Vino Fine Wine and Spirits will provide just that. Located on East 27th Street, Vino's marked by a friendly staff that eschews pretension while still knowing more than a little something about wine.


As Adam Linet, the store's owner, put it, "I would say we touch about 70% of the people in here, recommendation-wise." That's quite a lot when you imagine the get-in-grab-and-get-out approach many people have when it comes to patronizing liquor stores. In trying to make good wine and spirits accessible to the masses, Linet and his employees will opt to use common descriptors in trying to unite a customer with his or her ideal bottle of wine.

However, many people enter a liquor store with little idea of what they want to purchase outside of a general category (i.e., wine, whiskey, gin). For example, if someone comes in looking for wine, Linet might ask, "Okay, do you have a color in mind? Red, white, rose, or bubbly?" After which he'll further narrow it down by flavor profile (fruity, earthy, sweet, juicy?), all the while acknowledging that of the countless individuals who enjoy wine, very few have the vocabulary of connoisseurs.

Finally, Linet will ask customers about their price range. "Someone who wants an everyday bottle of wine that's $40 has a different palate than someone who wants an everyday bottle that's $12," he explained.

Vino's focus on hospitality extends to recommending the more "fun and weird" options at the store. This category, in the wine and liquor world, includes the likes of whiskey from India and Spanish wines from regions other than Rioja.

"There's a lot of fun stuff that if people are open to try, they should," said Linet, citing the store's biweekly tastings as a way to encourage patrons to do just that. Every Thursday and Friday between 5:30 PM and 8:30 PM, Vino hosts a rep who brings in something new (and fun, and weird) for customers to taste. Linet noted that customers act oddly hesitant when it comes to free samples. Thus, the Vino staff wants to help eradicate this fear of the unfamiliar when it comes to wine and spirits.

Interestingly enough, Vino started out by sticking safely within the wine comfort zone back around the start of the millennium. The store stocked pretty much only Italian wine—even the spirits were Italian. When Linet took over the store about three years ago, he decided to focus more on small production boutique offerings, adopting a more global approach.

Starting with about 250 products, Linet grew the shop to about 2,000. Though Vino still boasts a huge Italian selection, their French and North American wines might beat out the former any day now. Linet also added less expensive offerings to the store, further making it accessible to its immediate neighbors in Kips Bay and Murray Hill.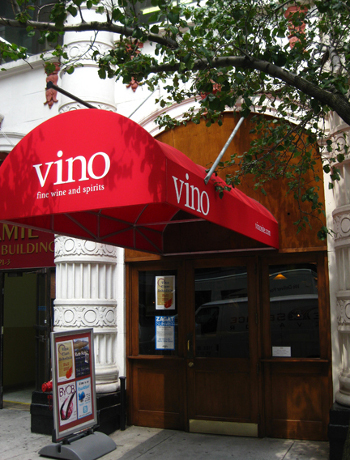 Overall, Vino carries wine from plenty of non-"big name" regions, like Puglia in southern Italy to some of the southernmost islands in Spain and the Loire Valley's lesser-known locales. The shop also stocks wine from multiple US states outside of California, such as Idaho, New York, and Michigan.

"The one from Michigan I was pleasantly surprised by," said Linet. "I wasn't planning to bring it in…but I had a meeting with the winemaker and tasted the whole line. It was good stuff, and they'd had plantings since the seventies…We tried their Gamay, which is the red grape used in Beaujolais, and it had this tartness that was light and refreshing and wasn't overly extracted like some California wines." The Chateau Grand Traverse Gamay Noir 2013 from Michigan is currently available at Vino.

In addition to the wine variety, Linet tries to ensure that whiskey and gin drinkers also get exposed to a wider than average range of options. When Linet took over Vino, he noted that the liquor selection accounted for "probably less than 5% of sales, and now, it's maybe a quarter of the sales." Furthermore, these numbers aren't coming from the usual suspects. Vino doesn't carry Makers Mark, Jim Beam, Jack Daniels, Tanquery, or Bombay.

However, you will find popular vodka brands like Grey Goose and Kettle One there. According to Linet, this is because vodka drinkers are very loyal. Meanwhile, "if someone comes in looking for Tanqueray, we can easily say, 'Well, why don't you try this gin instead?' Gin drinkers and brown spirit drinkers tend to be much more experimental and willing to try something new, so there's no reason for us to carry some big name bourbon when there's so much else out there."

To see exactly what else is out there, visit Vino Fine Wine and Spirits at 121 E 27th Street or give them a call at 212-725-6516.
Photos by Vino
Tags:
Spirits
,
Whiskey
,
Wine
Recent Articles

Feedback
How are we doing? Tell us what you like or don't like and how we can improve. We would love to hear your thoughts!