The Dead Poet-A Slice of Ireland on the Upper West Side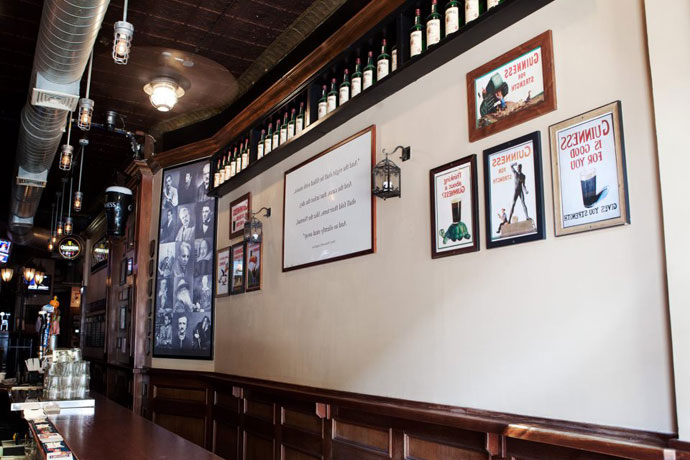 New York City used to be salted and peppered with workaday pubs – not dives overripe with dangers and dust, and not fancy venues with plush seating, power suits and costly cocktails, but straightforward spots where you could have a beer and hang out with old friends, make new ones, or park in a corner and read. They had wooden bars, brick walls, scruff marks, and the kind of comfort that comes with putting on a well-worn sweatshirt on a chilly autumn day.
They didn't serve craft brews. Craft brews didn't exist then.
Straddling both worlds -- rough brick walls, pint- and elbow-worn wooden bar, and affordable drinks, affable attitudes, a roundup of craft brews and promotions that drop prices from reasonable to cheap -- The Dead Poet is a welcome crossover on the Upper West Side. Weekly specials include $4 Brooklyn pints on Mondays, $4 local brews on Thursdays, and $5 Bloody Marys and mimosas every Sunday. The Dead Poet can spring sudden surprises, which is why walking by the brightly chalked sandwich board comes in handy.
You won't find this kind of place on a Broadway corner or adjacent to Lincoln Center. The Dead Poet is settled on Amsterdam Avenue, alongside the New York Public Library and Land, a Thai restaurant. It's a block away from Luke's Lobster in one direction and Zabar's in another, two blocks from the American Museum of Natural History and three from Central Park in one direction and Riverside in another. If you aren't an Upper Westsider, then there are plenty of reasons to be in the neighborhood – although the Dead Poet makes a worthy destination in its own clean but scruffy right.
The Dead Poet's brews hark from around the world. There's a digital lineup for the curious, but you're better off coming to the pub and checking the chalkboard; the online roster sometimes skips a few pints – and those may be the pints you'd want to down.
The Dead Poet does food too. Grab a plate of fish and chips or a burger or almost any other deliciously comforting pub grub you'd expect at a neighborhood bar.
On weekdays, the Dead Poet is a laid-back place with space to spare. Gerry, who works the weekday shifts, is a mustached embodiment of Irish pub-keeping style. In the evening, the bar can be thronging with hipsters, college students, microbrew-lovers, and people taking a breather from the day's demands.

All rules are self-suspended during the World Cup, when the Dead Poet becomes a lively den of international FIFA junkies. Whatever game is on the TV screens, there's no ill will between supporters of one state or nation and another. Disgruntlement and grudges aren't welcome past the pub door, which is almost as refreshing as the beer.
If you have Irish ambitions, then buy a pint of Guinness and start on a path to Dead Poet fame. Make it to 100 pints and have your name on a plaque on the wall. Reach 500, and your photo will join your name. Luckily, you don't even need to drink and track; the barkeep will mark your progress.
The walls are adorned with quotes from poets, supporting the appreciation of spirits, beers, and wine. Words being backward do not signal inebriation. Look in the mirror, and the poem will turn itself the right way around. Why are you looking at the wall, anyway? Unless you're at a table, your place is at the bar, facing the taps, the bottles and the mirror, keeping your glass full and your day or evening empty of sorrow, in the timeless tradition of welcoming neighborhood bars.
The Dead Poet, 450 Amsterdam Ave.; 212-595-5680
Photo via The Dead Poet
Tags:
Beer
,
Food
Recent Articles

Feedback
How are we doing? Tell us what you like or don't like and how we can improve. We would love to hear your thoughts!