Caipiri-nizzle My Cachaca-izzle: Snoop Dogg Partners with Cuca Fresca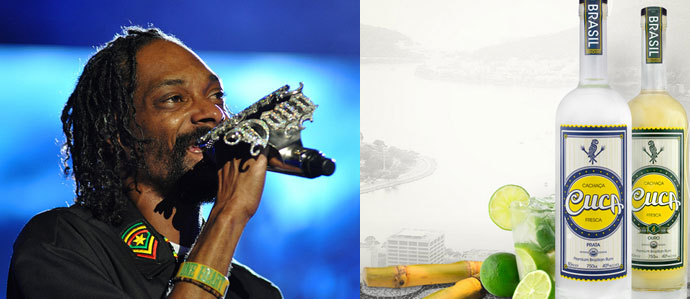 It's funny, in spite of his decades-long role as the unofficial celebrity smokesman for weed, Snoop Dogg has probably spent just as much time pushing booze as he has puffing on blunts over the years.
From Gin and Juice to cognac to the Four Loko-like blackout-in-a-can Blast, it seems Snoop's been rapping and repping liquor since dropping Doggystyle back in 1992.
Now hip hop's high priest is moving on to cachaça. Word comes today that Snoop just signed on as brand ambassador and a shareholder in Cuca Fresca, a Brazilian producer of premium artisanal cachaça.
"Cuca Fresca" is a commonly used Brazilian expression that means to "have a chill vibe." Seems like a natural fit for Snoop, who's rapped that he's so cool he sweats ice cubes.
"I'm excited to partner with the good people at Cuca Fresca," Snoop said in a prepared statement. "I have mad love for the Brazilian people and culture, and look forward to spreading the word about cachaça and the cool vibes of the country to the US."
Apparently Snoop first became enamored with Brazil when there on location to film the video for his 2003 hit song "Beautiful," with Pharrell Williams. While in Rio de Janeiro, Snoop felt an immediate connection to Brazil, its people and culture. Obviously, he developed an appreciation for the country's signature cocktail, the Caipirinha. Check it out below:
Stay tuned for more about Cuca Fresca from Snoop.
Photo: Flickr User: Jasson Persse
Tags:
News
,
Spirits
Recent Articles

Feedback
How are we doing? Tell us what you like or don't like and how we can improve. We would love to hear your thoughts!