Liquor Store Lowdown: Park Avenue Liquor Shop
From prohibition through three generations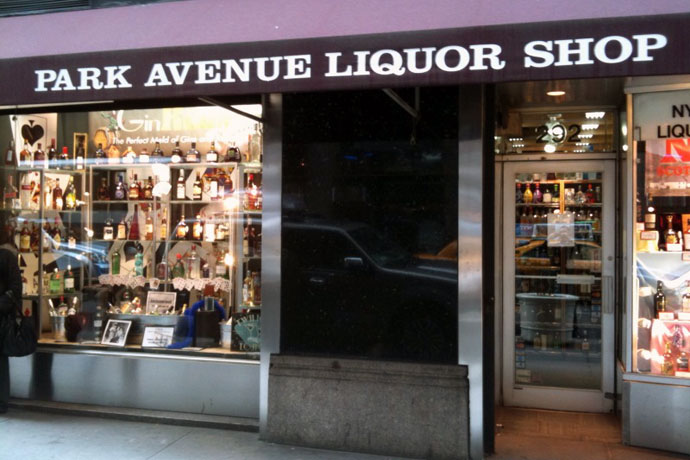 The first thing you should note about Park Avenue Liquor Shop is that it's not actually on Park Avenue. In fact, it's boasted the same Madison Avenue location since the mid seventies, though the store itself goes even further back to the prohibition era. Just after drinking became legal again in the US, Park Avenue Liquor opened its doors on Park Avenue in 1934.

However, the liquor shop isn't done moving yet. In mid-February, it will welcome drinkers to its new home on 39th and Madison (270 39th Street to be exact), remaining close enough to its namesake. Steering it through the move, Jonathan and Eric Goldstein mark the third generation in their family to oversee Park Avenue Liquor.

Though the brothers don't know much about the store's prohibition roots, the family's owned the place for quite some time—since the brothers' grandfather, Herman Goldstein, purchased it from the original owners back in the 1960s. Having worked as a window dresser specializing in the wine and spirits industry, he'd known the place was for sale. From there, he "struck a deal, and here we are," as Jonathan, current VP of the store (along with his brother) put it.

Herman's son, Michael, didn't initially intend to keep the liquor shop in the family. He'd planned to work as a banker, but then Herman became ill, leading Michael to help out more at the shop. There, he worked alongside his mother, building it up and ultimately taking the helm. His sons, Jonathan and Eric, spent time in advertising before they both made their respective ways over to Park Avenue Liquor. With their advertising backgrounds, they're now, according to Jonathan, "trying to take the next step forward."

Besides having been in Manhattan for so long, Park Avenue Liquor Shop's selection makes the store unique. "We were one of the first stores, at least in the city, to specialize in single malt," Jonathan explained. "We've seen bourbon and rye take off more in the last few years than it ever has before." Hence, people come to the shop because they have a certain, favorite single malt that Park Avenue Liquor keeps in stock.

Furthermore, the shop has an "exclusive" program, wherein the owners source entire runs and barrel casts, bringing them into the shop as their own. Through this, Park Avenue Liquor boasts exclusive batches of single malts, grain, cognac, brandy, tequila, and more. "It rotates," the brothers noted. "People come in and they want something unique or something they don't get back home. It's an easy sale to make."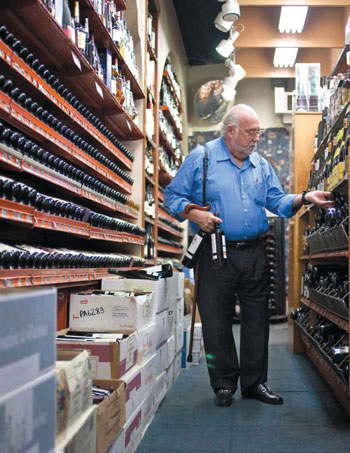 Besides the liquor, the shop hosts a wide variety of wines that range significantly in terms of vintage. "Most of the stores in the city, if you were to ask for something beyond ten years of age, they wouldn't have it. If they do, it's one or two different wines," said Jonathan. Meanwhile, you can find vintages that go back to the mid-1900s at Park Avenue Liquor Shop.

Why won't you find this at every liquor store in New York? Back in the eighties and nineties, the wine auction business got big. A lot of back vintages were auctioned off, bought up by stores, and sold at a quick turnaround. Now, these wines simply aren't available in the numbers they were in the 90s and before, so shops largely sell current vintages. "My father has purchased and built up his collection of those back vintages over the years," Jonathan explained. "Currently, we are looking at over 4,500, almost 4,600, different offerings. Each one is going to have at least one bottle, but sometimes it can be as many as 100 or 200 bottles, so it's a large inventory."

The new location should do them some good, in that case. It's got a large basement to store wines and liquors in a temperature-controlled environment ("of course"). The Goldstein brothers are also happy to stay in the neighborhood, where they see plenty of regular customers. The store's been in the same general area for about eighty years, after all, so "it's not uncommon to see second or third generation customers."

In keeping with Park Avenue Liquor Shop's intergenerational vibe, Michael, the second generation of Goldstein family ownership, still holds the title of "president" and works at the store Monday through Friday. As far as the family business model goes, "It keeps the interest level up," Jonathan suggested. "I think if you were to start hiring different people, if it wasn't their business, there would be a lack of enthusiasm."

For now, Park Avenue Liquor Shop is located at 292 Madison Avenue. Starting on February 15, look for it at 270 39th Street and Madison Avenue.
Park Avenue Liquor Shop, 292 Madison Avenue; 212-685-2442
Top photo via Park Avenue Liquor Shop, Body photo by Shannon Sturgis
Tags:
Gifts
,
Scotch
,
Spirits
,
Whiskey
,
Wine
Recent Articles

Feedback
How are we doing? Tell us what you like or don't like and how we can improve. We would love to hear your thoughts!