Crushing Grapes in Downtown Manhattan: City Winery Lets Us in on the Process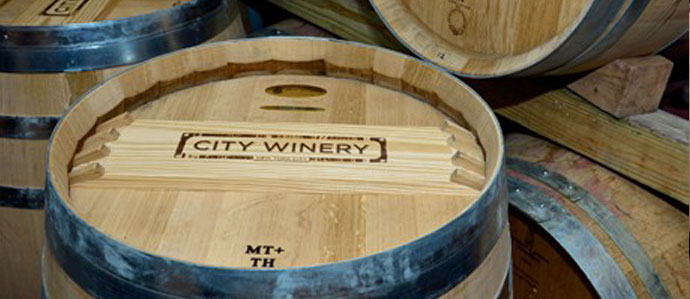 Every year, employees of Manhattan's City Winery, located on Varick Street not far from the Hudson River, hold what's referred to as a crush, where grapes lose their stems and begin the transition into wine. This late September, the winery made a party of it, inviting guests to get their hands grape-stained alongside the professionals as they embarked on this important, autumnal process.

After a quick introduction by David Lecompte, the winery's chief winemaker, during which we got to taste a grape and some fermented juice, the group headed over towards a large conveyor belt carrying both red and white grapes—and the crush began. The red grapes, Syrah, came from the same California vineyard as the white. Called Viognier, the latter tasted notably of peach, but both, equally juicy and delicious, proved difficult to avoid eating as we worked to separate them from the stems that made it onto the conveyer belt, after the initial de-stemming process.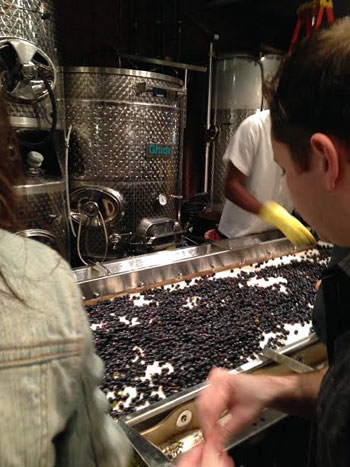 As it turns out, stems aren't the worst excess roughage to get into your wine. Leaves make a more negative impact when they sneak into the fermentation process. While the former at least come from grapevines, providing an overall welcome taste to the eventual alcohol, the latter produces an entirely different flavor. Ben Riccardi, Lecompte's assistant winemaker, described the resulting taste as, for lack of a better word, "leafy." This proves descriptive enough when you imagine the experience of a leafy wine on your palate.

After the grapes are sorted and subsequently undergo the event's titular process (the crushing), they ferment and then wind up in barrels to age. This can last up to a couple of years, but usually runs from anywhere between six to ten months.
We got to visit the barrel room after leaving the de-stemmed, de-leafed grapes in a large vat, where we also got to taste some of a former crush's final product. Down in the barrel room (one of three, which holds about 80 barrels and remains at a constant, low temperature), Lecompte passed around wine glasses and filled them with two kinds of Sauvignon Blanc (one at a time, of course).

The first of the two represents City Winery's highest sales numbers with an extremely light, fresh taste—very dry and beyond easy to drink. The second of the Sauvignon Blancs felt heavier, perhaps because it had been left to ferment in a wooden barrel for a year longer than its best-selling counterpart. Otherwise, the second wine's origins were no different from the first. It was made from the same grapes.

As Lecompte explained in the cool air of the barrel room, he and his team would work actively with the grapes we sorted for about three weeks, after which they would leave the tank full of grapes and their resulting liquid alone for a full 24 hours. At this point, the solids and liquids from the grapes will have separated, and City winemakers can then put these solids into a separate press.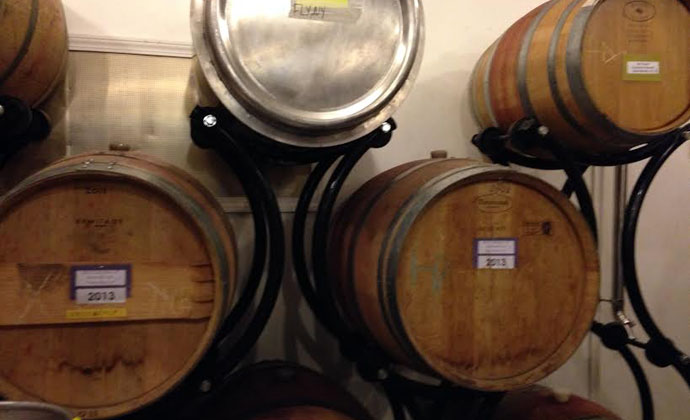 When all is said and done, press wine actually accounts for about 25% of the total wine made from a crop of grapes. The question then remains, do the tastes of the press wine and the "free run" wine match enough to combine in one batch? A blind test, performed by the winemakers (very few have a refined enough palate to discern subtle differences) determines the answer. If the press and free run wines go well together, they become one.
As the annual crush continued inside the winery, the group of us filed out back to dine on a variety of meats and cheeses to go with our wine. We sipped the aforementioned Sauvignon Blancs along with a couple of reds in the open air above the parking lot, where City Winery has held concerts in the past (second to wine, the place specializes in showcasing musical talent, mostly in the adjoining restaurant—Macy Gray will be performing there tonight, October 10).

Through some slightly inebriated banter, we found that the cast of characters you'll meet at such a City Winery gathering are as colorful as the grapes. They range from members, who have their own barrels of wine fermenting in the barrel room, to eccentric journalists who travel from far and wide to assert their own opinions about grapes and fermentation times. Regardless of where they come from, all guests have a common passion—wine, which City Winery lets them explore hands-on.

City Winery is located at 155 Varick Street, New York, NY, 10013. Contact number: 212-608-0555.
Top photo via City Winery
Body photos by Jessica Klein
Tags:
Wine
Recent Articles

Feedback
How are we doing? Tell us what you like or don't like and how we can improve. We would love to hear your thoughts!