Celebrate National Vodka Day With These 7 Classic Vodka Drinks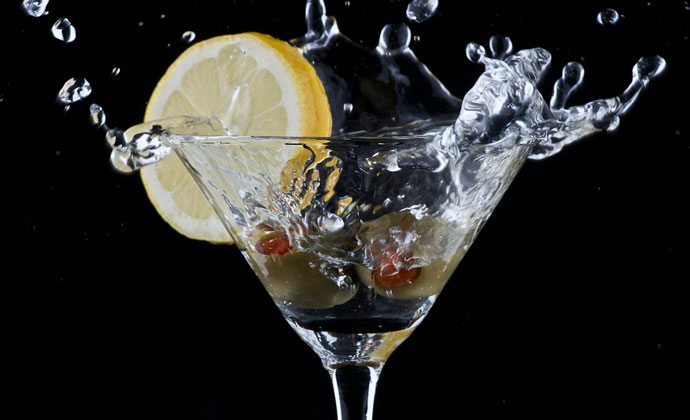 Vodka's origins are buried deep in Eastern Europe's slavic nations where vodka production and consumption still run strong today. The word "vodka" is slavic in origin and can be interpreted as "little water". With production dating back centuries, vodka is traditionally distilled from grains or potatoes, with an average ABV around 40% and little flavor of its own.
Today, vodka is made around the world and comes in all flavors and sizes. From birthday cake to bacon to peaches and cream, you can probably find a flavored vodka suited to your tastes. And while vodka might not make everyone's favorite spirits list, it's a staple of many a classic cocktail and is one of the highest consumed liquors in the world.
On October 4, we'll be celebrating National Vodka Day by mixing up some iconic vodka cocktails, and we've gathered some classic recipes you can make at home, so you can celebrate with us. Enough talk, let's drink!
Moscow Mule
2 oz. vodka
4-6 oz. chilled ginger beer
½ of a lime
Squeeze lime into a Collins glass (or the traditional copper mug) and drop in spent lime.
Fill glass with ice and add vodka.
Top with ginger beer to taste.
Bloody Mary
1 tbsp celery salt
¼ lemon in two wedges
½ tsp Worcestershire sauce
¼ tsp soy sauce
½ tsp freshly ground pepper
¼ tsp hot sauce
1 tsp horseradish (to taste)
2 oz. vodka
4 oz. tomato juice
1 celery stick
Dash cayenne pepper
Place salt or celery salt in shallow saucer.
Rub rim of 12-ounce tumbler with 1 lemon wedge and coat with salt, then fill glass with ice.
Add Worcestershire, soy, black pepper, cayenne, hot sauce, and horseradish to bottom of cocktail shaker.
Fill shaker with ice and add vodka, tomato juice, and juice of remaining lemon wedge and shake vigorously.
Taste for seasoning and heat and adjust to taste.
Strain into prepared glass and garnish with celery stalk.
Vesper
3 oz. London dry gin
1 oz. vodka
½ oz. Lillet or Cocchi Aperitivo Americano
strip of lemon zest for garnish
Combine ingredients in a mixing glass and fill with ice.
Stir well until chilled.
Strain into chilled cocktail glass.
Squeeze the wide strip of lemon zest over drink and use as garnish.
The Kangaroo (aka Vodka Martini)
1 ½ oz. vodka
¾ oz. dry vermouth
lemon peel for garnish
Combine ingredients in a mixing glass and fill with ice.
Stir.
Strain into a cocktail glass.
Garnish with lemon peel.
Gimlet
1 ½ oz. vodka
1 oz. lime cordial
lime wedge for garnish
Add all ingredients to a cocktail shaker and fill with ice.
Shake and strain into chilled cocktail glass or an Old Fashioned glass filled with ice.
Garnish with lime wedge.
White Russian
2 oz. vodka
1 oz. Kahlua
heavy cream
Fill Old Fashioned glass with ice and add vodka and Kahlua.
Top with a generous splash of heavy cream and stir.
Greyhound
1 ½ oz. vodka
grapefruit juice
lemon or lime wedge for garnish
Fill a Collins glass with ice and add vodka.
Top with grapefruit juice and stir.
Garnish with lemon or lime wedge.
What's your favorite vodka cocktail? Let us know on Facebook or Twitter!
Photo via Flickr
Tags:
Spirits
Recent Articles

Feedback
How are we doing? Tell us what you like or don't like and how we can improve. We would love to hear your thoughts!