Interview with a Mixologist (But Call Him a Bartender)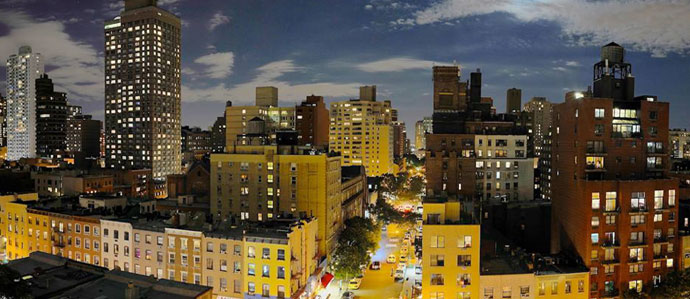 Ted Kilpatrick has been working behind bars (not in the prison sense) since he was in high school, moving up from dive bars and clubs to finer restaurants the likes of L'Espalier and No. 9 Park in Boston. This past April, Kilpatrick moved to New York to open the Roof at Park South with Tim and Nancy Cushman, whom he met through the Boston restaurant scene. A rooftop bar that's not just a "rooftop bar" (Kilpatrick will explain), the Roof at Park South just finished its first season as an establishment that's neither pretentious nor pedestrian. Like Kilpatrick, the bar gives off the feeling that it's relaxed but completely on point.

I caught up with Kilpatrick on a Wednesday evening, before he went upstairs for his evening shift on the Roof.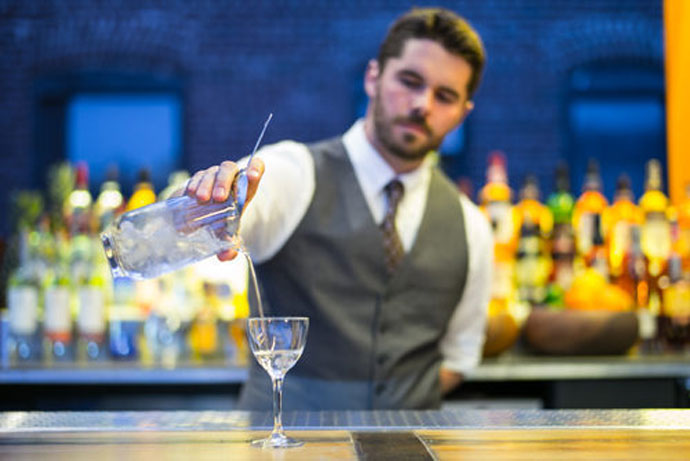 What's going on tonight on the Roof at Park South?
Rooftop bars in general are property that is in demand for New Yorkers, so companies will often buy us out to take care of their people and have them get outside when they spend so much of their year in an office somewhere—so that's what's going on upstairs tonight. I think that outside space is such a commodity in New York. It's a nice respite—I get why they're so sought after. I moved here a few months ago to open this bar, and my wife and I on our days off just want to get out of our apartment and go somewhere outdoors.
How did you get started in mixology? Did you have some kind of formal training, or had you just been a bartender for a while?
I have never called myself a mixologist. It's a word that I do understand has its roots in history, but if what we're doing is the act of tending bar, we're bartenders. As a mentor of mine, John Gertsen, once put it, "Mixology is what goes on in the glass, and bartending is what goes on outside of the glass."
Could you tell me more about your mentor, John Gertsen?
He did my former job at No. 9 Park restaurant before I worked there. He was the manager there before opening Drink, which is a pretty world-renowned cocktail bar. He was the general manager there until very recently. He was a formative guy in my career.
People talked about him like he was the stuff of legends. Getting seats in front of him at the bar at No. 9 Park was like the best seats you could have in Boston. Funnily enough, I never actually sat in front of him there.
What led up to you meeting him?
I started working at bars and restaurants because it presented itself to me when I was in high school. Then I went to North Eastern, in Boston, for college. Working at restaurants then was just sort of a means to an end.
Then I got into nicer restaurants, like a really high volume restaurant on Newbury Street called Stephanie's on Newbury. That was a busy, busy place. It taught me to be fast and professional at the same time. It was around then that I realized that this wasn't just a means to an end. I actually really liked what I was doing.
So you ended up focusing more on restaurant work then?
After Stephanie's I realized I wanted to take a job to learn, like you would in the kitchen. So I took a job at Radius Restaurant, which is a Michael Schlow restaurant in Boston. When I started working there, the chef had won a James Beard award. I think that's where I developed an affinity for having really great food to stand behind, having every part of the experience be perfect.
After Radius, where I was a manager, I worked at Sel de la Terre and L'Espalier as they were moving locations in Boston. I worked really closely with the wine director there. That's where I got to know wine.
Then I had a chance to work at a restaurant that I'd had a crush on forever, No. 9 Park, where John Gertsen ran the bar. I took a job as a bartender and a server there, which could be seen as a step back from the management I'd been doing, but I knew that that was a really special place. I started as a server/bartender, and I became the bar manager about a year later.
If everything else I had done up until then at restaurants was what I like to call my graduate school, then No. 9 Park was like basic underwater demolition, like Navy Seal training. Education is so in the forefront. You spend an hour every day learning about food, wine, other restaurants, chefs, and the history of gastronomy. So I worked there for about five years. In that time, you take away a lot.
What's one of the most important lessons you learned there?
If there was one lesson that I could have taken away from there, it was that a not insignificant amount of how something tastes is dictated by the environment it's served in. This is very true in restaurants and dining but also in a small microcosm it's true when it comes to drinks.
How did you end up here in New York?
My favorite restaurant to eat at in Boston had always been O Ya, which is a really small, nationally acclaimed Japanese restaurant. I reached out blindly a couple years ago to Tim and Nancy Cushman, who own O Ya, and I said, "Look, I love what you do, I love your style of service, I love the flavors, and I know you only have this small restaurant, you don't have a bar…" I did it blindly not knowing if they owned the space below them, if they owned the space above. I had such a vision for what it could be.
As ambitious and creative as they are, they realized they didn't have the place then but maybe they would someday. Eventually they asked if I would be interested at first in just consulting for a bar they were going to open in New York. I said, "Sure, that sounds fun." Then consulting got a little bit more involved, and they asked if I would be interested in running the bar on the roof at least for the first season. I asked how I was going to do that from Boston before realizing I wasn't. So that begat a move to New York on around April first. I was up there opening what really is just a good bar, with good cocktails and good food—it just happens to be outside. One thing we said we didn't want to do was open a "rooftop bar." We wanted to open a bar that we were proud of. It just happens to have no walls, no windows, and no ceiling.
How did you develop the drink menu at the Roof?
It was definitely a collaboration between myself and Tim and Nancy and my principle bartender Will Thompson who worked at Drink in Boston. We didn't want to put it on a pedestal. Nothing on this menu is asking you to "worship this drink in quiet reverence." They're just beverages that make sense to have in your hand while you're outside. These drinks should be refreshing, even the ones that are whiskey-based, like Manhattans or Old Fashions. They're maybe borrowed from New Orleans cocktail history, because if you can sip a stirred whiskey drink it New Orleans, it better be refreshing and not just austere and angry and spicy.
What's your favorite drink?
Margarita is one that I always come back to. I love a good Gin & Tonic; it's a great aperitif drink. When I'm visiting friends at cocktail bars around this city or others, I want to see what they're doing. I'm going to be all over the drink list. I want to taste it all. And I like a good frozen drink every now and again. I'm not ashamed to say it.
Any particular bar in New York that you keep going back to?
The list of places that I mean to go and that I would like to go to is incredibly long. I find myself frequently at
Pouring Ribbons
, Joaquin Simo's bar in the Lower East, like Alphabet City area. He was another bartender that was kind of formative in my career. I sat at his bar when he was at
Death + Company
in the Lower East Side a long time ago. I was referred there by John Gertsen. I sat in front of Simo and he was just a consummate professional. Everything that came out of his mouth and that he put in a glass was just perfection. That's a bar that I've been to more than others bar in New York. But like I said, my list of places that I need to go to, or would like to go to, is huge. And it's always growing.
The Roof at Park South serves Mediterranean-inspired bites to enjoy with Kilpatrick's cocktails and is open Monday–Wednesday from 5–11 PM, Thursday from 5 PM–12 AM, Friday–Saturday from 4 PM–12 AM and Sundays from 4–11 PM.
The Roof at Park South; 125 E 27th St.; 212-204-5222
Photos via Roof at Park South
Tags:
Cocktails
,
Education
,
Spirits
Recent Articles

Feedback
How are we doing? Tell us what you like or don't like and how we can improve. We would love to hear your thoughts!