Q&A with Lucinda Sterling, Managing Partner of Manhattan's Middle Branch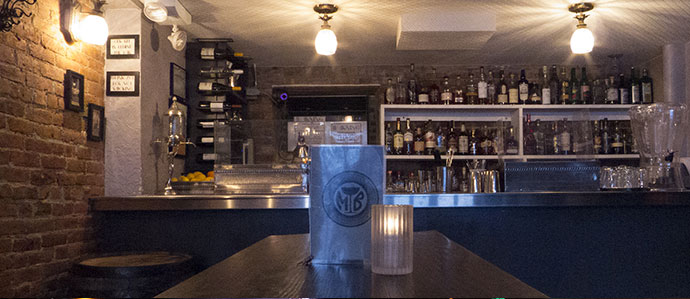 How did you come to by the managing partner of Middle Branch?
Little Branch was the door that I walked through into the realm of bartending, but I actually started in the cocktail scene at Milk & Honey. Sasha [Petraske} offered me a job as a waitron. I had no idea what classic cocktails meant. The only exposure I'd had ever to a cocktail was a martini – and a vodka martini, at that, so the gin drinkers would say, "Shame on you." I was taught over a thousand cocktails in a few short weeks … taught what they were, how many types of whisky exist, taught about brands, everything – the whole gamut – a lot of information for someone who has no experience in the customer service industry. That started in 2005.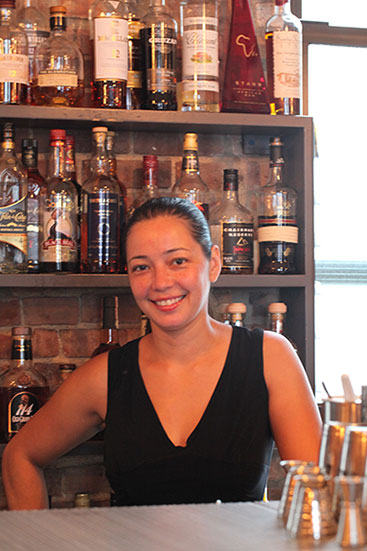 How did it feel, downing all of that information that fast?
The great part about it was that everybody was asking me great questions. I felt like I was constantly learning from the questions that they would ask, because I didn't know what I should pay attention to.

You kind of develop a script. It's like a go-to answer, a branded response for everything. Once you know how one person reacts to that, 90% of people are going to react the same way, so if it's a positive response, you know the right thing to say.

Can you give a for-instance?
A lot has changed since then. I've actually really learned stuff since then. I'm off script now.

When did you get to be off script?
I think when I became an active bartender. That was probably 2007, 2008. I was inspired by my pastry chef/boyfriend [Johnny Iuzzini; the relationship is in the past tense.] who did a stage at PDT on Sunday nights.

I thought, 'If he's going to be a bartender, then I should, too. He can't beat me to the punch.'

Did he?
There are a lot of transferable skills between being a chef – a pastry chef – and a bartender, like using the right ratios and things like that. Balancing a cocktail is much like balancing the amount of flour, chocolate or sweetness . . . Textures.

How many gins do you carry at Middle Branch?
We have four. We used to just carry Beefeater at Little Branch, but Beefeater bought Plymouth. They raised the price of Plymouth so that Beefeater would be the one on the shelf or in the well.

[At Middle Branch], we've got Beefeater, Bombay Dry, Hayman's Old Tom Gin and Hayman's Royal Dock, which is an overproof gin.

What's the cocktail program like at Middle Branch?
The program is exposure to classic cocktails that were born in the late 19th century, early 20th century.
The new things that are on the menu are simply variations of the classics. We try not to steer too far away from those recipes because they're tried and true.

How would you describe the ambiance?
We're embedded in a brownstone type of building, so when you walk in, you feel like you're walking into your grandmother's house or your friend's parents' house. You feel very at home, but you also feel like you're on a different behavior level. You're having dinner at friend's house versus just going out to a bar and having drinks.

We keep the music level down, and we also don't crowd the place with too many people, so you don't feel you're inundated with too many feet.
Eventually, I would like the neighborhood to discover the appeal that a bar like that can have. There is an air of sophistication in this neighborhood. It just needs to come back out.

What gives you joy in Middle Branch?
The satisfaction that people feel when they come in – and the employees, too. They're on a learning curve. They're gaining a lot of experience.

How much of a say did you have in what Middle Branch would be like?
I didn't have a voice in the architecture, because that was predetermined by the building itself. The little tiny nuances? The décor? That's me. I had ultimate decision in where to place pictures, what pictures to put up, coloring, layout . . .

I'd like put some more pictures up and make it look more homey.

What's your dream customer?
Someone who knows what they want . . . and can pay for it. (laughs)

Somebody who wants the education. Somebody who is inspired by what we're doing, and takes an interest in the craft of the cocktail – which is a craft, because you're not just making something with two ingredients for somebody to pound. We're not making shots so somebody can get their buzz and go their merry way.

We want the drinking to be an experience. We want friends to come in, have a great time, and toast each other when they get their drinks.

What do you wish people would ask you that they never do?
Sometimes I think that I'd like people to know that we fresh-squeeze a lot of our ingredients, like the ginger juice, and all of our juices are made that day. You're getting the fresh juice – and why is it important? Why is the acidity level such when it's fresh juice as against two days old or refrigerated at Whole Foods and it's in plastic? Things like that.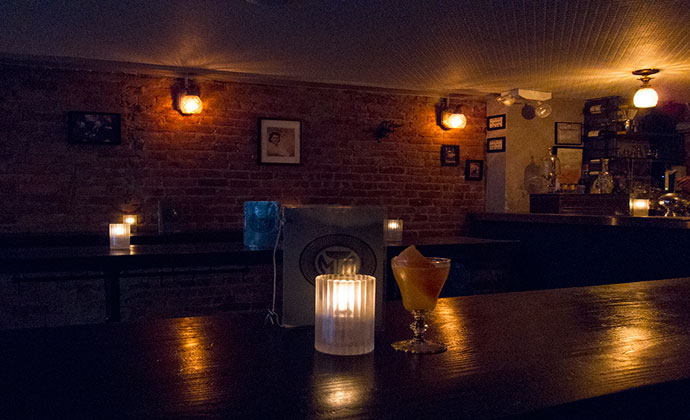 You've expanded into consulting. How is that different from managing a bar?
Managing a bar is something that's day-to-day, and there's a lot of minutia involved. You might lose a little bit of creativity along the way.
With consulting, you can expand that creative pipeline by taking in a completely new environment, considering new thirsty people who want to be wowed. This is your opportunity to shine, to create a new painting on a canvas that you never touched before. It's a way of starting over.
It's a collaboration: Taking a look through a different lens. Seeing what their ideas are and working through them and the other way around. Taking into consideration the fact that it's a new location, and you can build something beautiful out of a raw space.

And, of course, I bring that creativity back to the bar.

From waitron to bartender to bar manager and partner to consultant. Are you looking beyond that, or does that have your wings spread wide enough for now?
I think that, to be a person who works on the floor and to be somebody who works behind the bar, and then to finally be an owner who has the full scope of responsibility allows you to spread your wings.

After making the transition to bartender and to bar owner, I learned how to fix stuff on my own. You don't know this until you've been an owner. There's no one to slough it off to. After being an owner, you can prevent problems because you've already solved them.

When you're consulting, you should have all of those talents and skills and mechanisms already in place. It's a lot of responsibility – and if your name is riding on it, you want it to be the best it can possibly be, to carry forward.

That pays off for everybody: investors, staff and consumers.

On the subject of creativity, Middle Branch has its own bespoke popcorn bitters. How did you come up with that?
Popcorn is really dry. "Bitters" is a misnomer, I think, because when you add bitters, you're not adding a bitter flavor; you're adding something that kind of has a high alcohol content, but . . . It's a homogenizer. It brings together all of the ingredients, kind of like tying a string.

[For the popcorn bitters], I partnered with Raymond Snead, out of Boulder Colorado. He has a company called Cocktail Punk. They're doing a lot of different bitters. Two of my favorites that he has now are the smoked orange bitters and a pastiche, which is like an absinthe bitters.

What are you using the popcorn bitters in?
Currently, the popcorn bitters is going into a Sazerac, in lieu of the Peychaud's bitters, which is the authentic and original Sazerac. The Sazerac is arguably the oldest cocktail ever made.

The Popcorn Sazerac is made with a white sugar cube and rye whisky. We're using Old Overholt for the Sazerac. It's a great blend of rye and other grains. It's a humble, outstanding rye. It doesn't have much of a grainy characteristic.

The menu fluctuates according to seasonal ingredients. Popcorn is forever. You're never out of season on a Sazerac, either.
Middle Branch; 154 E 33rd St.; 212-213-1350
Tags:
Cocktails
,
Spirits
Recent Articles

Feedback
How are we doing? Tell us what you like or don't like and how we can improve. We would love to hear your thoughts!