New Flavors and DIY Kits Coming Soon From Brooklyn's Hella Bitter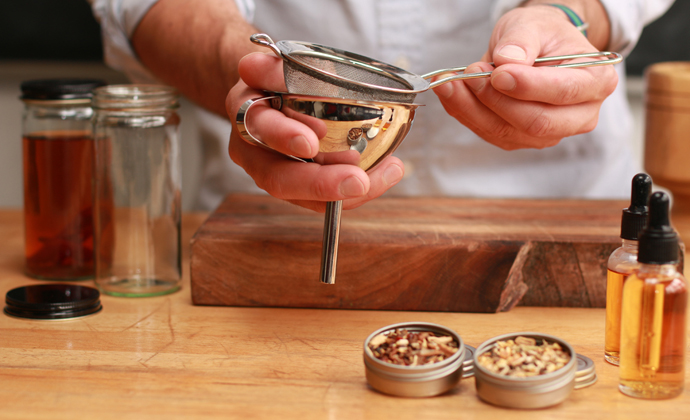 You've brewed beer. You've infused vodka. Brace yourself for the next step in liquid homework: making bitters.
In our era of cocktail craftsmanship, the concept may have been inevitable. That the presentation is elegant and the result adjustable – well if those are hella surprises, then its time to meet Hella Bitter.
Not that the crew is as buffed and polished as a trimly waist-coated master mixologist. These days, you're likelier to find one of the Hella Bitter crew climbing onto a huge tank to get a whiff of the citrusy contents, telling a FedEx delivery person that what the truck smells like is gentian, or debating the relative virtues of mace and nutmeg with someone from the Brooklyn Spice Company — business being as local as can be — than you are to find him bellying up to a fancy bar.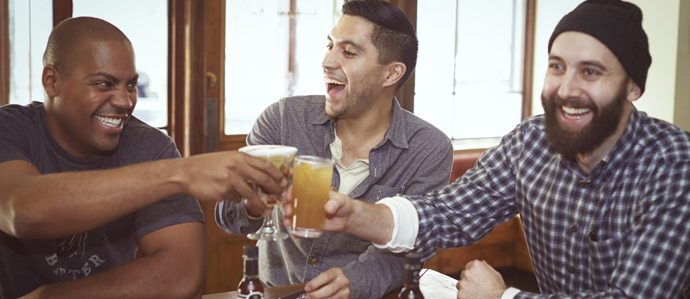 That's okay with Jomaree Pinkard ("Here at Hella Bitter, they call me 'coach'."), Tobin Ludwig ("Over here, they call me the Taste Master or the Batch Master." He's the chef.), and Eduardo Simeon (Mission Control).
Ludwig caught the bitter bug years ago. "It was the hobby," he remembers, "of a gentleman who was a dear friend." They tinkered with bitters, making them as gifts for friends and family. It was a fun thing to do.
Hella Bitter has been around since the end of 2011. Back then, Ludwig says, they made two five-gallon barrels, "which felt like an enormous amount." He pauses for a second, and then remarks, "which is very funny, because right now we're filling two 550-gallon tanks."
The business is all New York, but the name comes from the Bay, whence Simeon hails. "In Oakland," Pinkard says, "'hella' means 'very, a lot of'. It was an easy choice; it had some chutzpah." Oakland chutzpah in a 550-gallon tank.
Although they were inspired by tradition, the formulas in those tanks were completely original. "Over time, the formulas have evolved," Ludwig says. He uses a sachet method, which allows him to fine-tune each component's contribution to the flavor. Patience is a key ingredient; it takes month of maceration to produce a batch of bitters.
Hella Bitter has expanded in reach and volume, but Ludwig hasn't added flavors. There are two Hella Bitters on the market: aromatic and citrus. Next year will finally see new bitters — five, all going well. Nobody's giving hints, but a scan of the workspace gives a clue as to at least one future taste.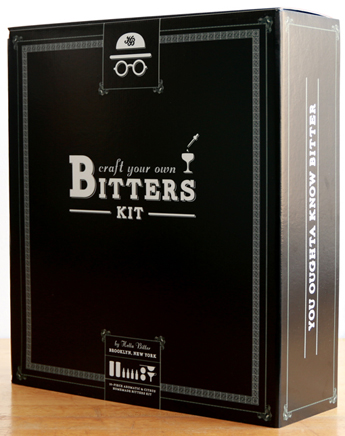 The DIY bitters kit isn't a new idea. By Pinkard's estimate, they've been talking about it for at least a year. They needed resources — money, people, experience, wherewithal — to get it done. "It's being manufactured," Pinkard says, "even as we talk." It should be shipping by the end of August.
The guys just survived a $50,000 Kickstarter campaign for the DIY bitter kit. "Our investment in the kit is so much more than that fifty," Pinkard says. They tried to figure out what people would want to help them with. "Fifty felt like a good number," Pinkard adds, "to help us along the way."
If you hadn't heard of Hella Bitter before the campaign started, then you might have caught spicy wind of them by the end. All of those retweets and social media posts were excellent advertising. To hear the Hella team talk about it, the sense of community meant as much as the money and PR.
What can you make with this kit? Ludwig has a straightforward answer, "We wanted to stay true to the concept of salt and pepper." Salt and pepper are likely to be the first seasonings in your kitchen, Ludwig says, and citrus and aromatic bitters should be the first ones behind any bar. "They're the salt and pepper for your drinks." That said, Ludwig created the kits with room for tweaking, so you can craft bitters to suit your taste.
The kits are available for preorder through the Hella Bitter website; bitters are always available. Nationwide shipping is available. There, they cost $50.
If you're a "shop in person" type, then you can buy Hella Bitter's DIY kits in Sur la Table and West Elm, as well as local New York City venues, such as the Chelsea Market, The Meadow and Whisk. Some shops may charge more than Hella Bitter's site.
How can you show off your newly bought or brewed Hellacious bitters? Hella Bitter's website has recipes for everything from syrup to supper. Pinkard advocates going old-school. "Somewhere in-between a Manhattan and Martini," he says, "the Martinez is a classic cocktail we can really get behind. It's simple, elegant, and perfect for the colder months. We also love the way it showcases our aromatic bitters."
The Martinez
1 ounce Tanqueray gin
1/3 ounce Carpano Antica Sweet Vermouth
Dash of Maraschino liqueur
2 dashes Hella Bitter Aromatic
Ice
Lemon peel, for garnish
In a mixing glass, combine gin, sweet vermouth, maraschino liqueur and Hella Bitter Aromatic bitters.
Add ice.
Stir gently for 10 seconds.
Strain into a coupe.
Garnish with lemon twist.
Photos: Eddie Simeon and Peter Fornatale
Tags:
Bourbon
,
Cocktails
,
Education
,
Gifts
,
Spirits
Recent Articles

Feedback
How are we doing? Tell us what you like or don't like and how we can improve. We would love to hear your thoughts!