Beachside Bars: Drink in the Surf Before Labor Day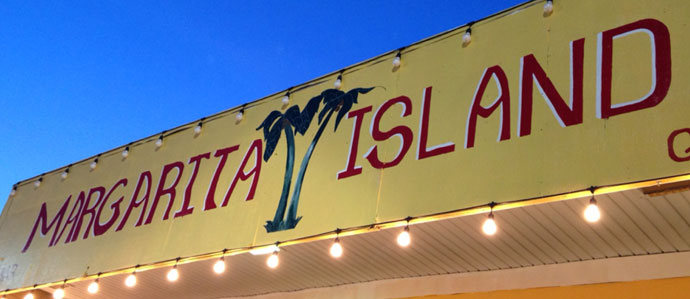 It's early yet, but, alas, Fall has made its way into the air, substituting New York City's heavy humidity with an ever so slightly crisp breeze. Thus, it's time to get the last of your beachside drinking in. For those of you who were "too busy" to find your way to those places where ocean meets land this summer, you might want to get it in before Labor Day weekend comes and goes. Here are some suggestions that will take you from Coney to Fire Island, in case you need some inspiration.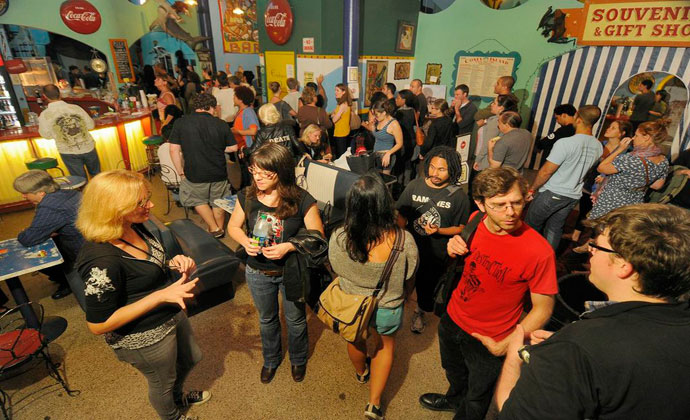 Photo via Norman Blake

The Freak Bar: Though you may imagine this place to be a total gimmick and therefore not worth your time, The Freak Bar, to put it simply, is not. The sideshow is full of intriguing acts, the staff is friendly, and you're more likely than not to leave with a smile on your face. Also, the beers are cheap and good, which helps since that's the bar's specialty. Coney Island Craft Lagers taste quite appropriate in the dwindling summer heat. (1208 Surf Ave., Coney Island; 718-372-5159)
Ruby's Bar & Grill: Mixing typical fair fare (think fried clams, funnel cake) with foaming beers, this place truly captures the Coney Island spirit of summer. If you're looking to savor the last of 2014's beach days, you might as well stuff yourself with the fattening foods that go hand in hand with riding the Ferris Wheel. You can't use "fitting into your bikini" as an excuse for not washing down fried seafood with pints of beer for much longer, so might as well stop now. (1213 Boardwalk West, Coney Island; 718-942-4200)
Margarita Island: Sister to the departed Beer Island, Margarita Island marks a noisy, crowded, class-bereft staple in an area that can otherwise be summed up in those very words—making it a necessary stop on your late summer Coney Island journey. Think frozen drinks as chasers for well shots, a lot of cleavage, and sunburnt, older families—the kind who still get a major kick out of following guzzled beers with a loud burp. All in all, you might as well make a stop here before you get stuck inside, swilling overpriced Manhattan cocktails all winter. (1105 Bowery St., Coney Island; 917-723-3232)
Skovorodka: If you're looking for a Russian (okay, and Ukrainian) cultural experience while you're in Brighton Beach, this restaurant sits right on the boardwalk, allowing you to watch the waves while you throw back vodka in Coney Island's quieter neighbor. The food is delicious and alcohol prices reasonable. It's not hard to end up leaving this place very drunk. There's almost always Russian music playing, and you may just find yourself downing vodka shots with strangers who will try to teach you a phrase or two in their language before you clumsily depart. (615 Brighton Beach Ave., Brighton Beach; 718-615-3096)
Playland Tavern: Attached to a motel and serving Bolivian edibles, Playland Tavern boasts plenty of character, dancing, and drinks. A high-quality sound system ensures a positive experience in the event of live music and DJ visits (which are frequent, at least in the summer), and the cocktails aren't too shabby, either. Summer specials include the Cucumber Cooler, which mixes gin and a cucumber solution with lemon and agave. (97-20 Rockaway Beach Blvd., Rockaway Beach; 347-954-9063)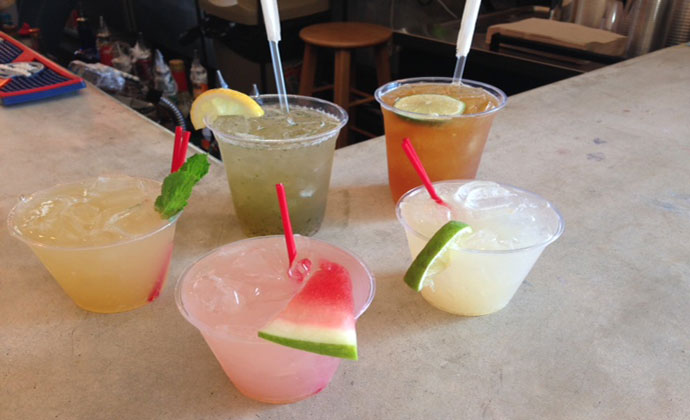 Photo via Rockaway Beach Surf Club
Rockaway Beach Surf Club: Welcome to a socially and environmentally conscious neighborhood bar. Supporting surfers, artists, musicians, and survivors of Hurricane Sandy alike, Rockaway Beach Surf Club sits about a block away from the beach and sports a vibrant clientele who all seem to care passionately about something. The laid-back vibe means you don't have to wear a shirt (which, technically, in New York, should mean women can go topless, right?) and the food cart that offers grilled watermelon adds the kind of touch that makes you forget you came here because you care about the ongoing Hurricane Sandy relief. (302 Beach 87th St., Far Rockaway)
Matthew's Seafood: You may be thinking, "But this is just a seafood restaurant…" If so, you'd be right…but you'd also be discounting the eatery's weekly dedication to getting wild with another type of fishy tribute—the fishbowl, filled with Margarita, to be exact. Margarita Madness Thursdays ensure that typical patrons get younger and the crowds gain a more vibrant spirit, shall we say, at least once a week at this Fire Island staple in one of its more bustling neighborhoods. (935 Bay Walk, Ocean Beach, Fire Island; 631-583-8016)
Top Photo via Margarita Island
Tags:
Beer
,
Cocktails
,
Food
,
Outdoor Seating
Recent Articles

Feedback
How are we doing? Tell us what you like or don't like and how we can improve. We would love to hear your thoughts!