Does Sarah Palin Need an Alcohol Intervention?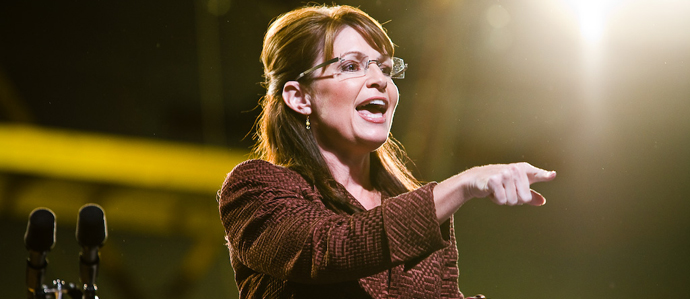 For the second time in a month, Sarah Palin's strange behavior has prompted many Americans to wonder if she may have a drinking problem. If so, perhaps it's time someone intervenes and gets her some help.
In late July, the former Alaska Governor and Fox News pundit delivered a 30 minute-plus incoherent — and at times slurred — speech at the Western Conservative Summit in Colorado. Youtube videos show her babbling on aimlessly, touching on the usual right-wing hot topics like Benghazi and impeaching President Obama. But at no point does she make any sense.
More recently, she's turned up looking bleary-eyed on her own TV channel spewing a stream of similar nonsensical blather that was intended as a response to Massachusetts Senator Elizabeth Warren's comments on fast food workers and their need for a livable wage. Out of the gate, she's talking in circles:
"We believe — wait, I thought fast food joints — er. Don't you guys think that they are of the devil or something? Liberals, you want to send those evil employees who would dare work at a fast food joint that you just don't believe in — thought you wanted to send them to purgatory or something until they all go vegan! Wages and picket lines. I don't know. They're not often discussed in purgatory, are they? I don't know. Why are you even worried about fast food wages?"
Watch for yourself in the clip below:
Chronic alcohol abuse is no joke, and can cause both serious medical and psychiatric problems. Not to mention the untold damage it inflicts upon family and loved ones. Here's hoping Palin gets the help she needs.
Photo: Flickr user sskennel
Tags:
News
Recent Articles

Feedback
How are we doing? Tell us what you like or don't like and how we can improve. We would love to hear your thoughts!