OSHA Slaps Anheuser-Busch With Multiple Serious Safety Violations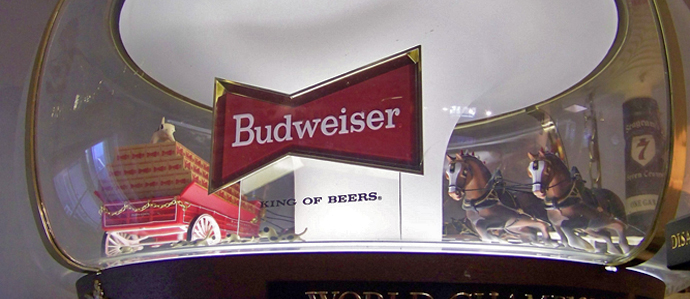 In a complete about-face, Budweiser, which once championed all the hardworking men and women in America with its "This Bud's For You" ad campaign, is now facing numerous charges of putting its own employees in harm's way.
If you're old enough, you may recall the TV and radio spots that ran in the late 70s and early 80s. They usually went something like: "To all you steelworkers who work and sweat all day to produce the nation's steel - this Bud's for you."
Cleveland's WKYC reports that the Anheuser-Busch brewery in Columbus, Ohio that makes Budweiser and Bud Light was recently cited for multiple serious safety violations following an inspection by the U.S. Department of Labor's Occupational Safety and Health Administration (OSHA).
Two were repeat violations. Eight more are new. All were deemed serious enough to cause death or serious physical harm. And now OSHA is considering penalizing Anheuser-Busch as much as $92,400 for not addressing them.
It all centers on the brewery's use of anhydrous ammonia, which is widely used as a refrigerant in industrial facilities. Ammonia is considered a health hazard because it is corrosive to the skin, eyes and lungs, and it's highly flammable in vapor form.
OSHA says Anheuser-Busch came up short on developing safety procedures for the emergency shutdown and restarting of its refrigeration systems; failed to address the dangers of over-pressurization and ammonia release completely; and did not have an ammonia detection system or a continuous emergency ventilation system in place, according to reports.
In a prepared statement, Anheuser-Busch claims "safety is our top priority and we have an exemplary safety record… and disappointed with the citations from OSHA and do not agree with the substance or classification of the claims alleged."
OSHA maintains that "Anheuser-Busch has a responsibility to ensure the safe operation of its refrigeration systems by implementing an engineering process for the detection and control of potential ammonia systems releases. Workers should not be put at risk because this company failed to implement the required protections."
Photo: Flickr user nicoleacosta
Tags:
Beer
,
News
Recent Articles

Feedback
How are we doing? Tell us what you like or don't like and how we can improve. We would love to hear your thoughts!