Neighborhood Happy Hour Crawl: The East Village Has It All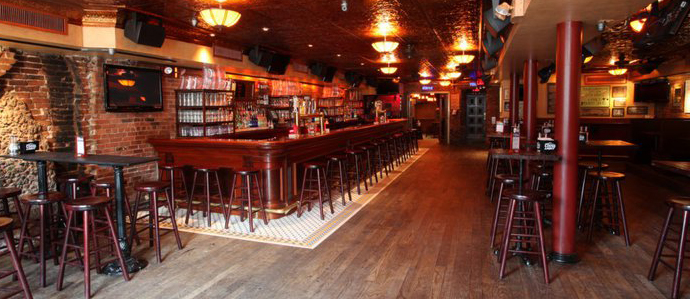 With a close proximity to NYU, the East Village can turn into somewhat of a playground for young adults when it comes early evening happy hours. Hunting for your brand of drinking deals in this neighborhood comes as an incredibly easy feat, as well, whether you're a well-dressed professional, grungy musician, or say a dance music enthusiast. Shuffling between bro-y, yuppie, and dirty, the bars in this area offer a variety of drinking discounts between the hours of 11:30 AM and late into the night (half-off wine Mondays?) as you roam between the East Side's avenues.

The 13th Step (149 2nd Ave.; 212-228-8020)
For the early birds, the happy hour at this bar (that sometimes better resembles a frat party) begins at 11:30 AM, ceasing at 8 PM in the evening. Furthermore, it means half off the entire bar. The lunch special, commencing at the same time and ending at 4 PM, provides you with a free draught beer (or soda, but this is a happy hour crawl we're embarking on) as you chow down on your burger or sandwich lunch, which is important to do before hitting up the other bars in the area. Most importantly, this bar is beer pong friendly.

Shoolbred's (197 2nd Ave.; 212-529-0340)
With two-for-one drink options every day until 8 PM, this bar reigns supreme for afternoon beers in good weather. The outdoor space on 2nd Avenue presents a surprisingly calm, streetside atmosphere in which you and a friend can sip two Schoolbred's Lagers for $7 total (that's for a draught beer—bottles, for the most part, run cheaper). The happy hour extends to well drinks, as well (no pun intended).

10 Degrees Bar (121 St. Marks Pl.; 212-358-8600)
Boasting a happy hour almost as long as bro haven 13th Step, this St. Marks watering hole serves up the two-for-one special every day from noon to 8 PM, but with an added bonus: On Mondays, they slice half the price off any wine bottle you can order. Though unlikely these policies allow for double dipping (i.e., two wine bottles for half the price of one), neither are they anything to sneer at. Plus, the bar's leather furniture and upscale vibe makes getting super cheap wine bottles feel less sleazy.

Lit Lounge (93 2nd Ave.; 212-777-7987)
Bathed in red with a dungeon-esque basement, this bar hosts lesser-known bands and features campy go-go dancers. Better yet, its happy hour extends until 9 PM, which is pretty late as far as happy hours in the neighborhood go. This means $3 beers and well drinks, which is probably about the cheapest you will find anywhere in Manhattan these days.

Keybar (432 East 13th St.; 212-478-3021)
It's almost tiring to list the number of two-for-one happy hours in the East Village. The one at Keybar also includes everything behind the bar and runs from 4 PM to 10 PM on Tuesdays through Fridays, with exceptions on Sunday and Monday. That literally means happy hours spans the bar's entire opening hours (4 PM to 4 AM) on the days you would least expect (an admittedly good trick for drawing people in who wouldn't normally consider having a drink on "the Lord's day" and the start of the work week). In case you're having trouble with the math, that equals two, twelve-hour happy hours a week.

The Wayland (700 East 9th St.; 212-777-7022)
The main draw for this bar's happy hour is the $1 oysters. However, $7 Margaritas aren't too shabby, either. Though this is still pricey for a happy hour, it's not necessarily for a frozen cocktail in NYC. Usually reaching up to the double digits, cocktails like a Sazerac at The Wayland also hover at $7 between 5 PM and 7 PM during the week. It mixes it up when other bars focus their "happy" discounts on beers and sub-par liquor.

Juke Bar (196 2nd Ave.; 212-228-7464)
In a unique twist, this lively, DJ-fueled basement bar hosts a hard-hitting Wednesday night happy hour — hard-hitting because it runs all night long. So don't get confused if you dip out at 3 AM and see that no drink on your tab exceeds $5. The cocktails that usually demand an average of about $13 cost $8 during the hours of happiness, and they include innovative specials like the Mint Fizz, which mixes Aperol, elderflower liqueur, fresh mint, and a topping, if you will, of sparkling wine.
Photo: The 13th Step/Facebook
Tags:
Bar Crawl
,
Beer
,
Cocktails
,
Food
,
Spirits
,
Wine
Recent Articles

Feedback
How are we doing? Tell us what you like or don't like and how we can improve. We would love to hear your thoughts!