A Brief History to Celebrate National Pina Colada Day, July 10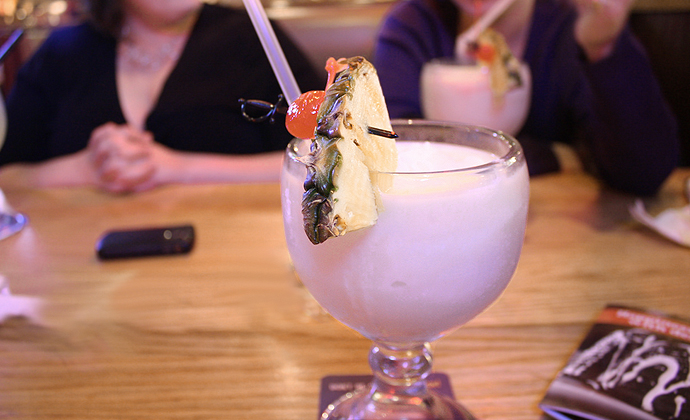 Like most of the entries in the great canon of cocktail classics, the true origins of the Piña Colada are about as clear as the drink itself.
At least three different bartenders from Puerto Rico claim the island's official beverage as their own. Though two worked at Caribe Hilton Hotel's Beachcomber Bar in San Juan when they supposedly came up with it, the nearly ten year discrepancy in their timelines doesn't exactly validate either of their accounts. Another takes credit for inventing it even later at the Barrachina Restaurant in San Juan, where today there's still a plaque on the wall commemorating the birth.
But there's considerable evidence to show that the practice of mixing prescribed amounts of white rum, pineapple and coconut for a delicious and refreshing respite from the heat dates back even further.
According to John Mariani's Encyclopedia of American Food & Drink, the words Pina Colada, which translate to "strained pineapple," first appeared in print in 1923. But legends have Puerto Rican pirate Roberto Cofresí serving a mixture of rum, pineapple and coconut to his ship's crew to help boost morale as far back as the 1800s.
No matter which origin myth you accept as truth on National Piña Colada Day, which is coming up on July 10, here are some recipes from Don Q Rum to help you get to the bottom of the mystery in a succession of satisfying sips.
Don Q Piña Colada
1½ oz. Don Q Gold rum or Don Q Cristal rum
2 oz. Pineapple juice
1 oz. Coconut cream
One Pineapple slice
One Cherry

Mix rum, juice, coconut cream and ice in a blender at high speed.
Serve in a tulip glass.
Garnish with pineapple slice and cherry

Skinny Pina Colada Infusion
Infusion:
750 ml Don Q Cristal
1 Pineapple (Remove the pineapple's head, peel the fruit and remove the core, slice the fruit into spears)
1-liter jar
Pour rum into the jar and seal, allowing to infuse for up to three days, then strain the rum into a different jar and discard Pineapple
Cocktail:
3 oz Pineapple Infused rum
4 cups Ice
1/2 cup fresh pineapple chunks
3 oz cream of coconut
2 oz coconut milk
2 oz pineapple juice
1/2 lime
1 pinch grated nutmeg
Piña Mojito

1½ oz. Don Q Cristal rum
1 oz. Fresh key lime juice
1 oz. Simple syrup*
Splash Sparkling mineral water
Two ½" fresh pineapple cubes
Eight Mint leaves
1 tsp. Small diced pineapple
One Mint sprig
Muddle pre-cut wedges of one of the spent key lime shells, hand-chopped mint leaves, juice and cubed pineapple.
Add rum, syrup and ice, then shake.
Pour into a cocktail glass.
Top with sparkling mineral water.
Garnish with diced pineapple and mint sprig.

*Simple syrup: dissolve 8 oz. granulated sugar in 8 oz. hot water.
Photo: Flickr user dreamingofariz
Tags:
Cocktails
,
Education
,
Holiday
,
News
,
Rum
,
Spirits
Recent Articles

Feedback
How are we doing? Tell us what you like or don't like and how we can improve. We would love to hear your thoughts!