Flames, Pineapples, and Pitchers: Best Drinks to Share in NYC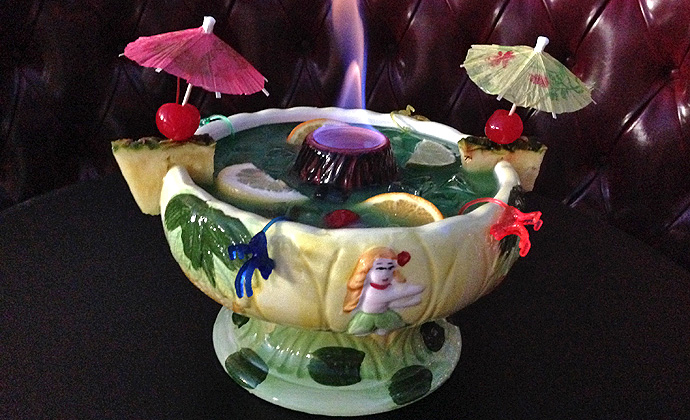 Getting more bang for your buck when you're drinking in a city as expensive as New York oftentimes means having to share with your friends. Lucky for you and your companions, this city holds a number of bars — Tiki and otherwise — that will fill your needs with just one bowl (or pineapple, or pitcher). If you enjoy the romance of inserting multiple straws into one fruity, alcoholic abyss, the following drinks are worth checking out (but not by yourself).
Volcano Blast ($30)
Otto's Shrunken Head (538 East 14th St.; 212-228-2240)
This shared beverage (pictured above) is literally on fire. Possibly the most fun (certainly in terms of looks) giant cocktail on this list serves three or four "brave souls," in Otto's words. The rum mix comes served in a festive bowl in keeping with the Tiki bar's theme.

Happy Bowl ($25)
Calico Jack's Cantina (800 2nd Ave; 212-557-4300)
This aptly named beverage delivers 96 oz of good feelings in the form of a massive fishbowl filled with vibrant, blue liquid. If you're aiming for a shamelessly tacky destination evening, Calico Jack's will offer you teaming crowds, serious drink specials, and very large straws to drink them with. Make sure to bring at least five friends (if you want to avoid alcohol poisoning) to partake in their three house mixes: tropical vodka, rum punch, or margarita.

The Zombie ($11)
Surf Bar (139 N 6th St, Brooklyn, NY; 718-302-4441)
Though many dare to solo imbibe this drink known to come with alcohol content warnings on some menus, one Zombie can happily accommodate two individuals. Made with light and dark rum mixed with apricot brandy, lime juice, orange juice, and topped with a Bacardi 151 floater, the Zombie comes to a total of five shots. Grab your friend an extra straw as you sit out back with your feet in the sand at this Williamsburg establishment (and there's sand covering the floors inside, as well, when it gets cold).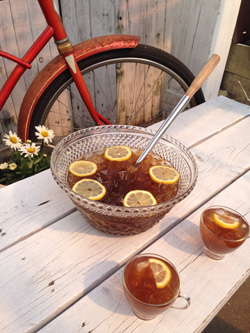 The Crusade ($43)
The Drink (228 Manhattan Ave, Brooklyn, NY; 718-782-8465)
Always made with fresh herbs, juices, and homemade syrups, punch options at The Drink hold ten servings and allow for classier high-volume imbibing. The Crusade marks a particularly interesting taste combination, as it mixes Old Monk rum, Rooibos Earl Grey tea, lemon, peppermint, clove, pink peppercorn, allspice, and Angostura bitters to create a drink that brings the flavor of winter's comforts into a springtime setting.

Paradise Hawaiian Style ($39)
The Trailer Park Lounge & Grill (271 West 23rd St.; 212-463-8000)
Though the price may appear shocking at first glance, this "rum three ways" beverage comes in a pineapple (that's a lot of room for inebriating liquid). Always made to order and meant to split with one friend, this fruity concoction also includes pineapple brandy and passion fruit juices. Enjoy it in an over-the-top themed restaurant whose décor will have you mesmerized for hours while you nurse that pineapple.

Mimosas by the Pitcher ($32)
The Brooklyn Star (593 Lorimer St., Brooklyn, NY; 718-599-9899)
Bottomless mimosas by no means constitute a novelty at brunch these days. However, the convenience of having a big pitcher that's all yours at your table presents a more unique opportunity, especially when the orange juice tastes as fresh as it does at The Brooklyn Star. They also serve John Daly by the pitcher at brunch for more of a southern angle to match their chicken and waffle-inclusive menu. The Daly pitcher combines vodka, lemonade, iced tea, and mint leaves.

Isle of Manhattan Fizz (price varies by size)
Cienfuegos (95 Avenue A; 212-614-6818)
This East Village bar and eatery serves their punches in three different sizes. "Con un Amigo" accommodates two or three for $38, "Toda La Familia" liquors up four or five for $74, and "The Royal" will keep nine to ten people satisfied for $114. Of their twelve menu options, the Isle of Manhattan Fizz deserves our attention not only for its name, but also for its lively mix of coconut, lime, pineapple, soda, and delicate orange flower water. The addition of Chairman's Reserve Silver Rum and Plymouth Gin ensure satisfaction for you and your one to nine other friends.
Photos: Otto's Shrunken Head; The Drink
Tags:
Cocktails
Recent Articles

Feedback
How are we doing? Tell us what you like or don't like and how we can improve. We would love to hear your thoughts!