Spice, Citrus, Tequila and Mezcal: How to Have a Happy Cinco de Mayo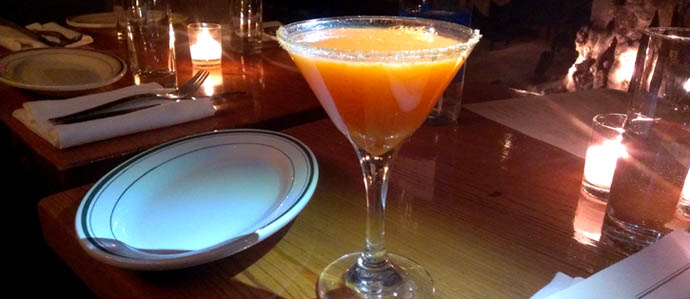 With Cinco de Mayo just around the corner, it's time to get your tequila on. Along with its blue agave-made counterpart, mezcal, this party-in-a-bottle has taken a variety of forms in Manhattan's most renowned cocktail bars and less traveled Mexican-themed drinking establishments. Throw in some spice, citrus, and inspiration to make your tequila and mezcal-based holiday a memorable one (provided you don't overindulge) this May 5th.

Dos Angeles ($13)
The Summit Bar (133 Avenue C; 347-465-7911)
This "classic cocktail" combines both tequila and mezcal with fruity Aperol and orange bitters for an extra-strong start to your Cinco de Mayo. Carralejo Blanco Tequila brings a slight spearmint flavor to contrast the rich agave character of Don Amado Reposada Mezcal. Cucumber bruised with a muddler saves the blend from reaching an overwhelming level of tang.
Golden Calf ($13)
The Guthrie Inn (1259 Park Ave.; 212-423-9900)
The bright, citrus bursts of Combier Orange (the "original triple sec" because it's been distilled three times) and fresh lime make another irresistible citrus/tequila combination. Vinegar-based Hellfire Shrub completes the flavor trifecta (because tequila loves spice just as much as it adores citrus).
Mezcal Cocktail (Unnamed) ($12)
Rayuela (165 Allen St.; 212-253-8840)
Cutting right to the chase, this outstanding cocktail infuses spice and mezcal from the get-go. The addition of carrot and pineapple and aji amarillo reduction seriously mellows out the Scorpion Mezcal, creating a cocktail that almost tastes like a smoothie (in the best way possible). Salt from the Serrano ham rim takes your taste buds on a real, multi-dimensional journey. The result: the least biting mezcal cocktail you'll ever taste marked by unparalleled creativity.
Stirred Mezcal Cocktail (Unnamed) ($15)
Rayuela (165 Allen St.; 212-253-8840)
Another innovation from this underrated Latin American/Spanish restaurant, their stirred mezcal option blends the more expected Aperol and Angostura Bitters with the surprisingly appropriate add-on of cynar and Velvet Falernum Liquor. The prominent artichoke component gives cynar its digestif/aperitif standing, while the traditionally Caribbean flavor of almond, ginger, and cloves of the falernum rounds out the otherwise edgey flavors of this mezcal cocktail.
La Diosa ($18)
Apotheke (9 Doyers St.; 212-406-0400)
On the pricier side for sure, this blend of Union Mezcal, orange juice, and egg whites is 100% worth the cost when you add house-made rosehip and elderflower liqueur and an absinthe rinse. The unique taste of the rosehip and elderflower makes the mezcal beverage truly special, while the boost of absinthe provides the touch of crazy you always hope for when it comes to mezcal.
Pancho Villa ($18)
Apotheke (9 Doyers St.; 212-406-0400)
Made from reserve liquor, like the former, the Pancho Villa also represents a more expensive option, but again, you get what you pay for at a bar that claims to transcend itself to become "a stage, chemistry lab, and theater." Not for the faint of heart, this cocktail combines grilled corn, poblano pepper, agave nectar, and lime to create a savory concoction inside a crystal glass. The highly mixable Del Maguey Vida Mezcal marks a twice-distilled alcohol with a nose of vanilla, honey, and fruity aromatics soft enough to make it the perfect blend for a variety of cocktails.
Di Pompelmo ($12)
Amor Y Amargo (Love & Bitters) (443 East 6th St.; 212-614-6818)
Named appropriately, this grapefruity cocktail uses hopped grapefruit bitters to provide the perfect partner for tangy tequila. The bitter orange and rhubarb flavors of Aperol along with Citron Sauvage intensify the initial flavor burst and make this drink a favorite for when you expect your cocktail to double as a wakeup call for the evening.
Tamarindo ($14)
Agave (140 7th Avenue S; 212-989-2100)
Vanilla-infused Casa Noble reposado tequila would be enough to set this cocktail apart, but its namesake seals the deal with its signature sweet and sour properties. In addition to the tamarind, the agave nectar provides further incentive for drinkers with a sweet tooth. Both tastes compliment the vanilla, while the tequila prevents the drink's sugary lore from entering cloying territory.
Acapulco Spice ($12)
Agave (140 7th Avenue S; 212-989-2100)
This spicy special brings out the bar's house-made jalapeno-infused tequila. A long-standing tradition in taste combinations, the spice and tequila mixture featured in this cocktail is only enhanced by more jalapenos. If you were worried about a tastebud assault, the addition of cointreau and fresh lime juice brings some tartness, which, counter to popular belief, mellows out that sharp, jalapeno kick.
Tags:
Holiday
,
Spirits
Recent Articles

Feedback
How are we doing? Tell us what you like or don't like and how we can improve. We would love to hear your thoughts!