Feds Nix Approval For Instant Cocktail Palcohol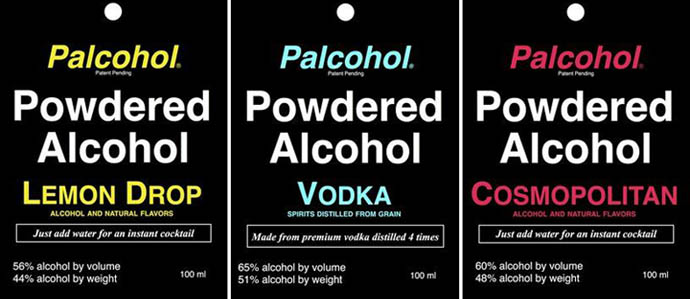 Don't hold your breath waiting for Palcohol to show up on the shelves at your favorite booze store anytime soon. Earlier this month, it seemed as if the the powdered, instant cocktail concoction was a sure thing after it got the go-ahead from the Alcohol and Tobacco Tax and Trade Bureau.
But just as quickly as it received approval, that same federal agency rescinded its decision, stating that it was made in error.
Palcohol's buzz began building in early April after it was announced that the just-add-water mixed-drink had gained the regulatory agency's approval, and would soon start shipping. Like Kool-Aid, Palcohol goes from a powdery substance to seemingly palatable beverage when combined with water. The only difference is, mixed in within its granulated flavorings and sweeteners, are tiny hollow orbs filled with firewater, which dissolve in water, giving the mixture an alcohol kick. Proposed flavors include vodka and tonic, Cosmopolitan, Lemon Drop, Kamikaze and Margarita.
At issue is the packaging, according to Palcohol parent Lipsmark LLC. A company spokesperson said there's a discrepancy with the fill level — or how much powder is actually in the packet. But the Alcohol and Tobacco Tax and Trade Bureau is reportedly staying mum on the matter.
Meanwhile, there's been considerable chatter on the web and social media concerning Palcohol and the chances it has to actually come to market. Since most rules concerning liquor, its sale and consumption are prescribed at the state level, Lipsmark LLC would have to clear a tremendous amount of legal hurdles to get its products on store shelves.
Further complicating matters is a page on the Palcohol website that suggested the powdered drink could be easily smuggled into places where alcohol is not permitted, or places where it's sold with a significantly marked up price, like concerts, sports arenas, cruise ships and hotels. What's more, the page, which has since been removed, also stated that the product could be snorted, but discouraged that with a statement that Palcohol should only be enjoyed responsibly. According to NBC News, beverage industry attorney and author of the booze law blog BevLaw.com Robert Lehrman argues that this could keep the powdered mixed drink from ever seeing the light of day.
Tags:
Cocktails
,
News
,
Spirits
Recent Articles

Feedback
How are we doing? Tell us what you like or don't like and how we can improve. We would love to hear your thoughts!