Springtime Drinking in New York: From Lime to Rosemary, It's Looking Pretty Green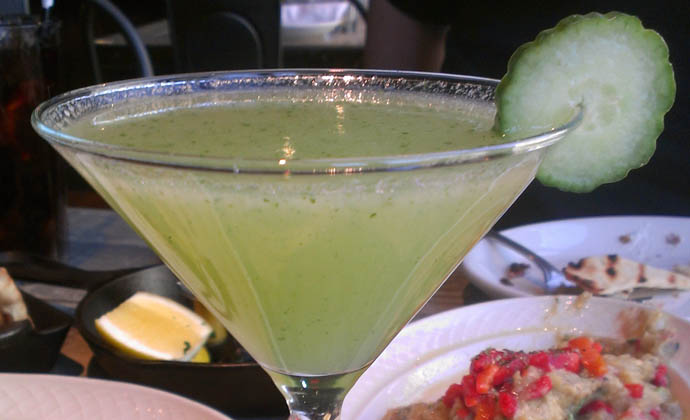 From Queens to Manhattan to Brooklyn, spring is in the air — and in our favorite restaurants and cocktail bars too. As cucumbers and limes make it into artisan spirits in increasing numbers, the temperature creeps from the fifties to the sixties. This spring in New York, drink choices evince the usual freshness that describes pre-summer months, bringing to the table lots of citrus and innovatively infused liquors. We've compiled some of our favorties. Check them out below.

Brooklynite ($13)
The Summit Bar (133 Avenue C; 347-465-7911)
One of the bar's signature "shaken cocktails" by Gil Bouhana, the Brooklynite's lime flavor prevents the rum from making it a more summery drink. The herbal nose of Appleton VX Rum jives with the Angostura bitters, while the sweetness of agave makes it just right to enjoy while the flowers bloom.

Lions In London ($12)
The Summit Bar (133 Avenue C, 347-465-7911)
With Rooibos Tea Infused Sapphire East Gin as the first ingredient, this cocktail does not disappoint in terms of complexity. Crafted by Greg Seider, the original cocktail also includes Dolin Sweet Vermouth, Summit Orange Bitters, and Aperol, which provides a hint of rhubarb.

Rumble Bee ($13)
The Guthrie Inn (1259 Park Ave, 212-423-9900)
The unassuming Guthrie Inn hides behind an unlabeled, red door but boasts some of the city's best artisan cocktails. The Rumble Bee marks one of the top menu items for spring, as the rum, honey syrup, and peach bitters produce a candy taste that also manages to stay light and oddly refreshing. Add in some expressed lemon peel and you've got a drink to help stave off those last winter colds that rear their heads come springtime.

Charlie Lindbergh ($12)
Gin Palace (95 Avenue A, 212-614-6818)
Because gin always reminds us of warmer weather, it tastes right at home next to some citrus. The inspiration for this cocktail came from that particular marriage. Beefeater gin with Lillet (an aperitif that's 85% Bordeaux wines and 15% macerated citrus liqueurs), apricot liqueur, orange and lemon juice give this drink the sharp, bright spirit of spring.

The Way To Shell Beach ($12)
Gin Palace (95 Avenue A, 212-614-6818)
This original gin cocktail from the "Palace" moves away from the citrus/gin combo for a more innovative take on the spirit. With the addition of Amontillado Sherry and Chipotle and Pasilla Chile syrup, the Dorothy Parker Gin base packs some heat. A touch of rosemary keeps it in line with the verdant spirit of the season.

Angourri ($12)
MP Taverna (31-29 Ditmars Boulevard, Astoria, 718-777-2187)
Introduced by the server as one of the oldest cocktails on the menu, the house-infused cucumber vodka with elderflower and lime juice shines during this time of the year. Described as "crisp" and a "Greek special," the infusion process takes days and leaves you with textured, fresh-tasting vodka, flecked with green cucumber peels.

Limonada ($11)
MP Taverna (31-29 Ditmars Boulevard, Astoria, 718-777-2187)
Another cocktail in the Greek tradition from the very Greek Astoria, the Limonada unites ouzo (an anise-flavored liquor consumed largely in Greece and surrounding areas) with the flavor of lemon. Simple syrup and soda water give the drink a refreshing kick.

Deep South of Heaven ($12)
Dram (177 S 4th Street, Williamsburg, 718-486-3726)
Served shaken, this beverage brings in spring's favorite shade of green, with lime and fresh pressed apple juice. The white rum (combined with overproof rum) picks up a sweet, sparkling touch with Campari, soda, and bitters, making it best to enjoy by this Brooklyn bar's window-side seating.

If It's The Beaches ($12)
Dram (177 S 4th Street, Williamsburg, 718-486-3726)
For a more Eastern adventure, this Tarragon Infused Shochu beverage blends blackberries, lemon, and orange liqueur to let you know that springtime is here (if not also encouraging summer). Served shaken, this warm weather cocktail includes Cocchi Americano (so the aperitif's slightly bitter, aromatic taste can balance the fruity sweetness) and Hellfire Bitters.
Tags:
Cocktails
,
Spirits
Recent Articles

Feedback
How are we doing? Tell us what you like or don't like and how we can improve. We would love to hear your thoughts!