New Documentary Explores the Lore of Malort, AKA the World's Worst Liquor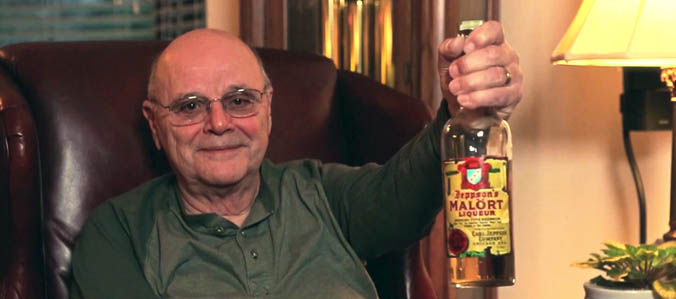 Jeppson's Malört, arguably the most hideous and heinous hootch ever produced, is the subject of new documentary being released this summer. For anyone who's ever had the pleasure of throwing back a shot of this fiercely bitter, herbal spirit, which is consumed almost exclusively in Chicago, the first question that comes to mind is: why?
Well, from what we can gather from the trailor for This Story Will Never End: Jeppson's Malört Documentary that recently surfaced on the web, the film's producers, Fire Engine Red Films, believe there's more to the notoriously wretched rotgut's story than simply a beverage that's so bitter that it causes its drinkers' faces to contort. And they're bent on sharing that tale with audiences.
For the uninitiated, Malört is a wormwood-infused spirit that comes on seemingly harmless with a pleasant sweet citrus taste, but quickly gives way to a cringe-inducing bitterness that's been described as a cross between bile reflux and solvent. For some reason it's never really caught on outside of Chicago, where for generations locals have consumed it primarily as a dare or poured it for unsuspecting outsiders as prank.
According to its own label the "strong, sharp taste is not for everyone," and "only one out of 49 men will drink Jeppson Malört." Its late-great founder, Carl Jeppson, famously said that it was "produced for that unique group of drinkers who disdain light flavor or neutral spirits."
Sure sounds like the film will be a hell of a lot more palatable than the actual Malört.

This Story Will Never End: Jeppsons Malort Documentary Trailer from Fire Engine Red Films on Vimeo.

As an added bonus, here's a fun video demonstrating how awful Malort really is.
Tags:
Spirits
Recent Articles

Feedback
How are we doing? Tell us what you like or don't like and how we can improve. We would love to hear your thoughts!