Where to Watch the Oscars in New York City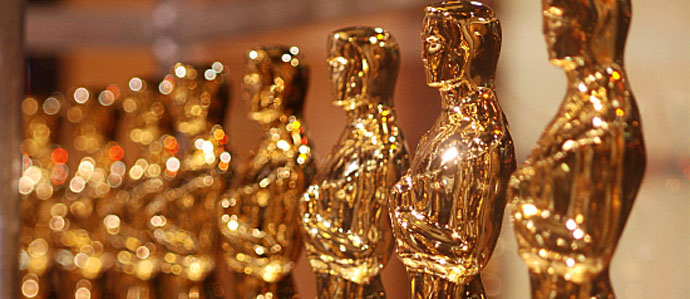 Sure, awards shows are usually longer that the movies they honor with far lamer jokes but there are perks: Great outfits! Potential for disasters! Awkward moments you'll "OMFG" over the following morning! Here's where to grab a brew while debating the relative merits of American Hustle vs. 12 Years a Slave.

Nitehawk Cinema (136 Metropolitan Ave.; 718-384-3980)
Where better to watch the Oscars than a place where you don't have to get up to get food and a huge screen to watch every fold of chiffon on? Especially themed dishes based off the nominees. There are games, if you do want to take a walk. The advertised "run time" for the event is 210 minutes, after all. A $25 food and drink voucher reserves your seat.

Joe's Pub (425 Lafayette St.; 212-539-8778)
Join comedian Murray Hill for his Oscar Party at Greenwich's Joe's Pub. There will be impersonations, movie spoofs and even voting on best and worst dressed--of the audience. Take a little extra care with your outfit and head over for the 8 p.m. event. And be sure to polish up the rules to your personal Oscars drinking game, there is an audience award for the drunkest.

TBD (224 Franklin St.; 718-349-6727)
If vying for the prize (prize?) of being the drunkest isn't how you want to spend a Sunday night--or, even if it is, Brooklyn's go-to low-key hangout for those looking to watch TV is hosting an Oscars event. Four HD screens will be playing the awards show, and there are drink specials and free snacks with said drinks. Also, for those who'd like to be a little less invested on who wins Best Costumes, there's ping-pong and other games.

Le Poisson Rouge (158 Bleecker St.; 212-505-3474)
For the ultimate Oscars aficionado, Le Poisson Rouge will be hosting a special themed trivia game at 5:30 p.m. on Sunday for those who can't wait for the actual event. Expect multiple rounds, and not having to shout anything out and face shame, and quick breaks with your fellow obsessives (and booze). $10 before the date, $15 at the door.

Your Couch (various locations)
So you didn't finish watching all the nominees for Best Picture--the new ten films rule makes it quite the commitment! And you want to make up your own mind before being told who is worth being honored this year. Sit back and watch a film (or a couple, or a whole ton if you're going through the shorts) on your couch and pop a bottle of homebrew--plenty are already available on Amazon Instant, Netflix, or, if you're thinking ahead, DVDs that you can get sent to you from Netflix.
Photo: Flickr user nyclovesnyc
Tags:
Beer
,
Cocktails
,
Parties
,
Spirits
,
Wine
Recent Articles

Feedback
How are we doing? Tell us what you like or don't like and how we can improve. We would love to hear your thoughts!