Celebrate Mardi Gras While Never Leaving New York City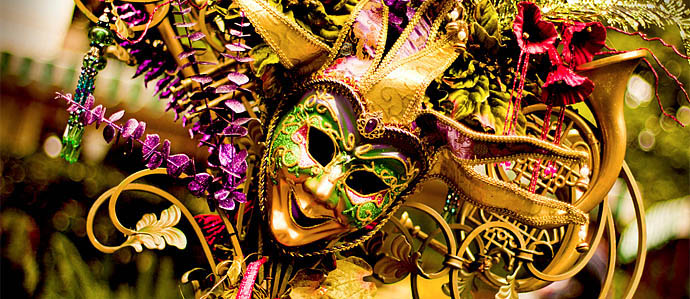 While the weather does seem infinitely more appealing in New Orleans than the snowy, wet mess that is New York City these days, hopping on a plane to that beacon of jazz, gumbo and street celebrations simply isn't an option for everyone. Bummed? Don't be. Instead, roll with the drunken, hot, sweaty good times at these five Mardi Gras celebrations here.
DBA Brooklyn (113 N 7th St.; 718-218-6006)
Starting at 8 p.m. on Saturday, March 1, a DJ will play a mix of New Orleans favorites and classic party tunes while you enjoy drink specials like $5 hurricanes (the good kind). Lucy Roux will be serving up great, saucy gumbo and red beans and rice—just $10 for a plate of food and an Abita draft.
Meetup Party at Croton Lounge (108 W. 40th St.; 212-997-6835)
Looking to see some new faces? New in town? 30-some Meetup Groups will congregate at Croton Lounge to party down with beads, masks, hats and festive favors. There's also going to be plenty of the best ice breaker there is—DJs playing party music and drink specials like $4 beers from 9 p.m. to 11 p.m., and $6 hurricanes all night.
Glasslands Gallery (289 Kent Ave.)
Less art gallery and more sweaty warehouse, expect the same chic, dark-rimmed glasses plus a lot of mist when scene favorites like LE1F, JD Samson and FJTRSPA spin. Glasslands proudly touts its drinks as the strongest in the city, and they certainly live up to the hype—skip the cocktails and head straight to the simple stuff on Saturday night, starting at 11:30 p.m. for just $5.
The Delta Grill (700 9th Ave.; 212-956-0934)
If you're not in a boogie down mood, a visit to Midtown's Delta Grill where $30 gets you a hurricane and unlimited crawfish, jambalaya, red beans and chicken creole on Tuesday, March 4. There'll be music from Citigrass to keep it all going.
Great Jones Cafe (54 Great Jones St.; 212-674-9304)
And if you're more of a NOLA fan than a Mardi Gras fan, keep things simple at this Bowery staple since 1983. Keep it low key with great food and happy hour drink specials. There're some beads hanging up by the bar but nobody is going to ask you to show them your tits to get them. They're decorations, don't be gauche.
Tags:
Holiday
Recent Articles

Feedback
How are we doing? Tell us what you like or don't like and how we can improve. We would love to hear your thoughts!