For the Winter Olympics in Sochi, BrewDog Punks Putin With 'Not For Gays' Protest Beer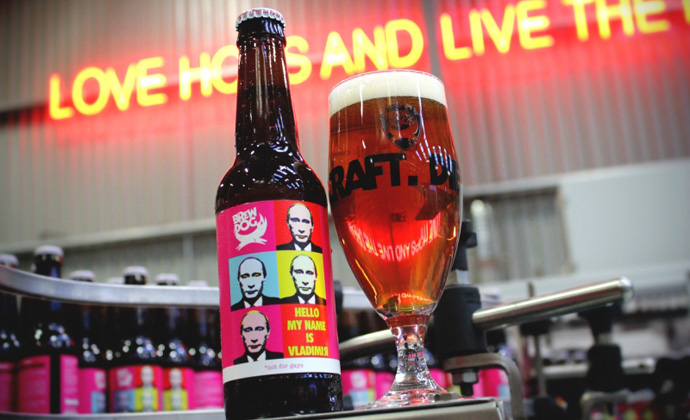 You'll be hard-pressed to actually find it in or near Sochi, Russia, but nonetheless James Watt and Martin Dickie, the two men responsible for bringing Scotland's BrewDog to life and onto the international stage, are ruffling feathers all over the former Soviet republics with their latest limited edition release, Hello My Name is Vladimir.
The BrewDog dudes are billing the limonnik berry-infused double IPA as the world's first ever protest beer. Ahead of the XXII Olympic Winter Games, it was brewed, labeled and packaged explicitly for the purposes of poking fun at Russian President and "uber-hetero" Vladimir Putin, and the controversial anti-gay laws he's passed. To make certain that the Russia's "sick legislation that discriminates against millions of its citizens" doesn't get glossed over by the Olympic Games' message of unity, toleration and good will, BrewDog's founders have branded the beer with a "Not For Gays" disclaimer, and put Putin in makeup on its Andy Warhol-inspired label.
The back label delivers even more digs with text that reads:
"I am a bareback double IPA. Gasp, as I ride semi-naked on horseback through the Siberian tundra and straight down your throat.

I am 100 percent hetero and will pass laws to prove it. Drinking me gives you the energy, ignorance, and dogmatism required to shoot a deer (with your top off), go river fishing (with your top off) and pass internationally denounced, discriminatory legislation (top optional) before you've even had your caviar breakfast.

I contain sexual performance enhancing limonnik berries – power only to be harnessed by those engaging with the opposite sex, of course.

From Russia, without love.

-Vlad"
Going a step further, and to ensure that the provocative brew gets on Putin's radar, they shipped a case of it to him at the Kremlin. There's no word of whether he's accepted the gift, nor how it was received. Still there's more to the beer than a well-deserved needling; BrewDog is donating half of all the profits from its sale to charities around the world that represent the oppressed.
If that's not worthy of a gold medal, we don't what is.
Photo: BrewDog

Tags:
Beer
,
Sports
Recent Articles

Feedback
How are we doing? Tell us what you like or don't like and how we can improve. We would love to hear your thoughts!