Scientists Study Best Way to Get Served at a Bar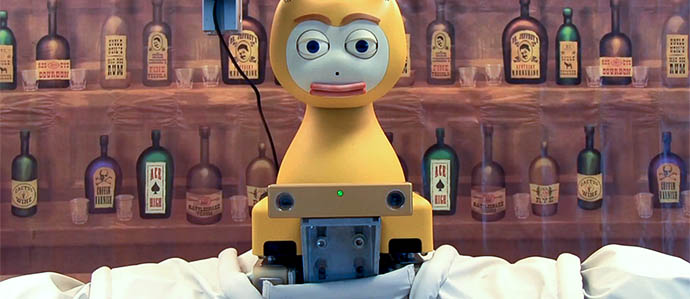 Every bartender and barfly has tips and tricks for how to get served quickly when you need another drink, but what really works? A group of German scientists did an actual study on the subject and came up with some hard numbers.

As reported by the Telegraph, the most successful way to catch the attention of the boozemaster shaking things up is to stand square to the bar (i.e. facing it directly) and stare at the bartender, never taking your eyes off them as they move around.

Taking out cash or holding a wallet increased chances only slightly, and perusing a drink menu is also not a great way to get your drink on the quick tip. The likelihood that you'll get served when chatting with friends and occasionally glancing up at the bartender is pretty low.

The researchers, who published the results in Frontiers in Psychology, weren't just trying to up their party fun after work; they are working on a robotic bartender called James (Joint Action in Multimodal Embodied Social Systems). The robotender is actually funded with a government grant from the European Union, and the scientists are working to have it recognize when a patron is eager for a refill.

Should bartenders worry for their jobs? Not quite yet, there's a lot of work to be done on the bot, which has a tablet computer head — it's mobile arm is currently capable of getting you another bottle of brew, but not much else. For now, humans on both sides of the bar can benefit from the research.

Recent Articles

Feedback
How are we doing? Tell us what you like or don't like and how we can improve. We would love to hear your thoughts!