Italy's Latest Inspiration: Spreadable Beer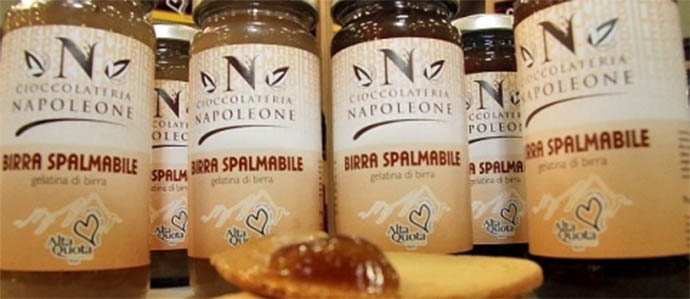 The world of Italian craft beer is surging, much of the growth and experimentation inspired by our own American craft beer revolution. One thing Italy has that we do not, however, is spreadable beer. Yes, beer jelly now exists, and it even comes in two flavors: one made with stout and one with blonde ale.


Birra Spalmabile is a collaboration between brewer Emanuela Laurenzi of Alta Quota, a brewery in central Italy's Cittareale, and chocolatier Pietro Napoleone of Cioccolateria Napoleone, also located in Rieti, Italy. The two worked hard to figure out a way to blend beer, sugar and pectin that was pleasing to the palate and had the right texture - it's not like beer jelly hasn't been tried before, but it's not easy to get it right.

When the pair hit upon the perfect combination (Birra Spalmabile uses about 40% beer and 60% other ingredients), they released Birra Spalmabile, meant to be spread on toast or crackers (or in awesome B+J — beer and jelly — sandwiches). Though there's an intense beer flavor to the jam, you won't get buzzed from your snack; alcohol content is around 1% ABV.

Jars of Birra Spalmabile are available in Italy locally, and in the UK through Selfridges online store. Though the treat is currently out of stock — due to all the media coverage recently — expect more to be made soon. The bad news is that while the 280g (about 10-oz.) jars have a list price of £8 ($12.50), shipping to the U.S. can run $35 or more. Still, spreadable beer. Probably worth it.
Top photo via We Love Mercuri
Recent Articles

Feedback
How are we doing? Tell us what you like or don't like and how we can improve. We would love to hear your thoughts!