Suds Run: Should You Drink Beer After a Race?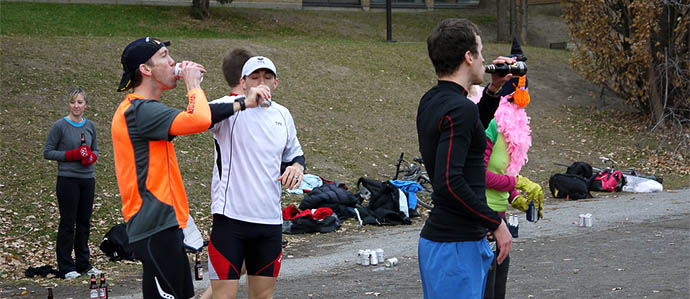 If you've run your fair share of races, you're familiar with the rite of finish-line brewskis. You likely know that some races are organized by breweries, such as Dogfish Head's Dogfish Dash (coming-up at the end of this month). There are beer-centric running clubs all over the country (one we found describes itself as combining "responsible running and consumption in the interest of science.") If you're a runner, you've probably followed a "Will run for beer" T-shirt for one too many miles at least once in your life.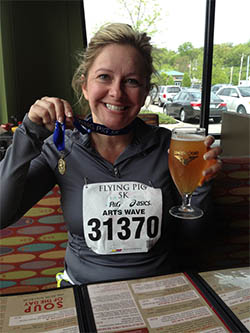 With beer and running intertwined as they are, the question needs to be asked: should you really be drinking beer after a race? Which also raises the follow-up question: who do we thank for this idea?
Though we may not know for sure who chugged the first cold one as a cooldown, we can give Professor Manuel Garzon of Granada University a healthy pat on the back for some support. As reported by the Washington Times and The Telegraph, according to the good Professor — who announced the results of his study at a press conference beneath a banner that read "Beer, Sport, Health" — "[B]eer can help the body rehydrate better after a workout than water or Gatorade. The carbonation in beer helps to quench the thirst and its carbohydrate content can help replace lost calories."
Spanish medical pros didn't stop there. Dr. Juan Antonio Corbalan, a cardiologist with the Real Madrid football (aka soccer) team and Spain's national basketball team, told The Washington Times that he "long has recommended barley drinks to professional sportsmen after exhausting activities." Muchas gracias, amigo.
Beyond hydration and lost calories, we found some good news about slightly longer-term benefits. Researchers found that drinking beer can mitigate the inflammatory response from the increased stress experienced during a marathon — a response that can temporarily suppress the immune system. The "rich and varied polyphenols found in wheat beer elicit a less pronounced immune response, and as a result, fewer illnesses and infections," reports Active.com. Keep this in mind... but don't stake your flu shot on it.
If you decide a post-race beer is for you, Active.com suggests these race-themed brews: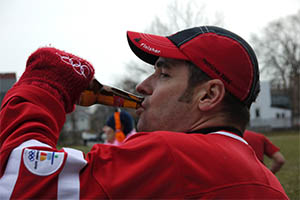 Marathon Lager by Athenian Brewery
Victory Lager by Victory Brewing Co.
The Bitter End Pale Ale by Two Brothers Brewing Co.
Hoppy Feet by Clown Shoes Brewery
Trackdown 200 Meter Ale by Eugene City Brewery
26.2 Boston Marathon Brew by Samuel Adams
Before popping any tops, do observe certain conditions and restrictions. Moderation is important. More than a beer or two and the diuretic effect can kick-in, leaving you dehydrated. Also, Runner's World suggests it's best to wait at least 36 hours after suffering an injury to sip, as alcohol can delay the body's ability to heal. Good thing it's always five o'clock somewhere.
Photos via Flickr, from top to bottom: ActiveSteve, Erica Minton, ActiveSteve
Recent Articles

Feedback
How are we doing? Tell us what you like or don't like and how we can improve. We would love to hear your thoughts!