Beer Review: De Koninck by Brouwerij De Koninck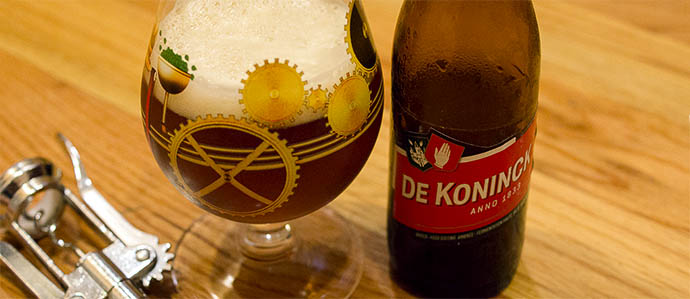 Sunday, July 21, marks the 182nd anniversary of the uprising that made Belgium an independent state, separate from the Netherlands. You can be sure people across Belgium will be celebrating with plenty of brew, and Belgian beer lovers in the U.S. have plenty of reason to celebrate, too. One of the beers we'll be toasting with this weekend is the flagship brew from Brouwerij De Koninck.

De Koninck is especially suited to day-long partying since it's relatively light, as Belgian beers go. The pale ale is brewed traditionally with only water, yeast, malt and hops, and rings in at just 5% ABV. Though we didn't have a traditional bolleke glass handy, we poured our 11.2-oz. bottle into a tulip from Duvel (which has owned the family-run brewery on the outskirts of Antwerp since 2010).

The head is bright, frothy, and not quick to dissipate from its perch atop the hazy, golden liquid. Biscuity malt is apparent on the nose, with just a tiny tinge of hoppiness. The Saaz-Saaz hops are much more apparent when you sip the beer, though they don't contribute bitterness so much as cut the malt. It's a well-balance example of the pale ale style — not too bready, not overly sweet, just generally drinkable and almost refreshing.

It was extremely easy to finish the bottle, in fact, and if we'd had more than one kicking around the fridge, we'd have popped the cap off a second with no hesitation. De Konink is available at Belgian bars and finer bottle shops throughout the U.S., so if you're planning festivities for Belgian Independence Day this weekend, you'll do well to seek out this sessionable ale.
Photo by Danya Henninger
Recent Articles

Feedback
How are we doing? Tell us what you like or don't like and how we can improve. We would love to hear your thoughts!