Pro Tip: Toast Summer With an Outdoor Wine Party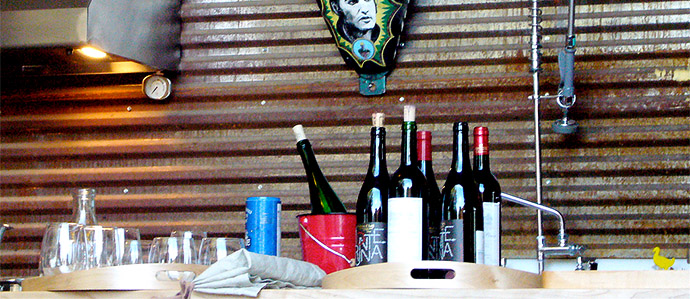 The only thing better than enjoying a chilled glass of crisp wine in the summer sun is enjoying it with your friends. It's easy to open your home, your patio, your backyard or even your 2'x2' balcony to host a casual outdoor wine party. Here are our pro tips on how to make it happen.

What to Drink
Wine, of course. But while it's easy to just grab any white during the warmer months, some varietals lend themselves better to the hottest heat. Avoid more delicate, floral whites like muscat or viognier that could get crushed in the heat, and instead opt for high acid, crisp, mineral options. A few suggestions:
Sauvignon Blanc: Both the tropical notes of bottles from New Zealand and the more steely bite of one from Sancerre, France, are bright and dry.
Reisling: From the dry (kabinett) to super sweet varietals, Riesling is almost designed to be cool and crisp, making is great for heat in the air or in food.
Albariño: Peachy and bright, this Spanish favorite will make you feel like your rocking away the night on a porch swing.
Rose: Summer is rose's season, and its dry and tart taste paired with its heady nose create a sultry combination.
How Much to Buy
You know your friends better than us. If your parties run long and your guests are often thirsty, boost the numbers as you see fit. Better to have too much than too little.

Here's what to consider: each standard bottle of wine should deliver about five glasses of wine. Assume that each guest will enjoy two glasses during the first hour, than another glass for each additional hour.

How to Serve
You don't need to get uber fancy for a wine party. A few medium-sized glasses (for all whites, opt for thinner-fluted glasses for the best aroma), a fun stainless steel bucket or funky garden urn to fill with ice and bottles, and you are golden. If you fear breakage, check out our round-up of outdoor-friendly drinkwear options.

It's always smart to offer at least snacks to balance out the alcohol consumption, and for these wines, think light. Sushi maki samplers, Thai-spiced satays, grilled vegetables or even classic shrimp cocktail will pair beautifully while keeping guests satisfied. Throw in a custom iPod mix, and you've got a party.We'll look for our invite soon.
Photo via Flickr user hmmlargeart
Recent Articles

Feedback
How are we doing? Tell us what you like or don't like and how we can improve. We would love to hear your thoughts!