Moonlight Meadery: A Whole New Category of Delicious Booze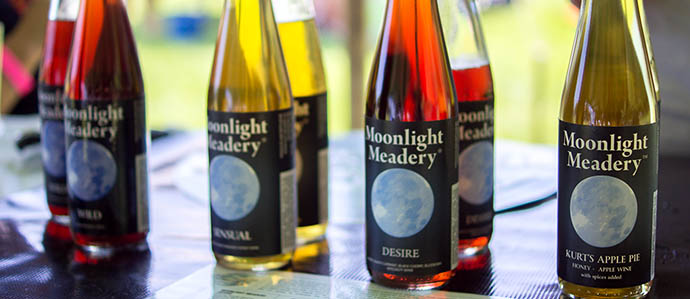 What's the first thing that comes to mind when you think of mead? For us, it's the image of Little John, the rosy monk in Robin Hood who was portrayed in the Hollywood movie as running a meadery. Mead conjures the image of ancient booze production, something that was made before beer or wine or distilled liquor was ever invented. In fact, the earliest evidence of production of mead dates to 2,000 BC, according to Wikipedia.

Mead is now seeing a resurgence, and Moonlight Meadery is one of the leaders in that charge. Founder and head mead maker Michael Fairbrother founded the company in New Hampshire in 2010, and in three years has seen explosive growth. Moonlight meads are now available in more than 20 states, including PA, OR, NY, MD, VA, CO and Washington, D.C.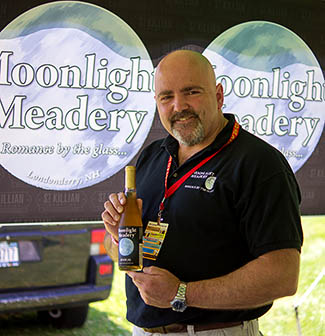 What is mead, anyway? It's a fermented honey wine, made from honey, water and yeast. Moonlight meadery does a traditional signature mead, but also has expanded the line into a huge roster, including barrel-aged meads, sparkling meads and "melomels," which are meads made with fruit.

Moonlight's products are marketed with a tagline of "Romance by the glass." They are sweeter than beer, on the whole, but the sweetness varies greatly from label to label. We recently had the opportunity to sample four different versions, at the International Great Beer Expo at Philly Beer Week. "Sensual" is the name given to the traditional mead, made from wildflower honey, and it was our favorite. If you like honey, you'll like Sensual. It's incredibly tough to taste to the alcohol when sipping the beverage, even though it is 15.3% ABV.

"Wild" was our second favorite, a melomel with mountain blueberries from Alton Bay, NH. A perfect pairing for any summer picnic. "Desire" is a flagship product, a mead made with a much more complex fruit blend containing blueberries, black cherries and blackcurrants. It's a stronger, fruit-forward taste, and we felt the honey too buried beneath them. The most popular Moonlight mead is Kurt's Apple Pie, which is a cyser, really, since it's made with both honey and apple cider. It tastes exactly like apple pie. Drink a bottle for dessert and you'll be happy.

There is a Moonlight Meadery online store, so if you're in one of those lucky states that allows it, you can easily order a bottle or two to sample, and then go back for a case if you're smitten. Bottles run $15–$22 for regular meads and melomels, and higher for barrel-aged and limited edition runs. If you've got a friend who shies away from beer because it's too bitter, this makes a perfect gift.
Photos by Danya Henninger
Recent Articles

Feedback
How are we doing? Tell us what you like or don't like and how we can improve. We would love to hear your thoughts!