Neighborhood Happy Hour Crawl: Welcome to Williamsburg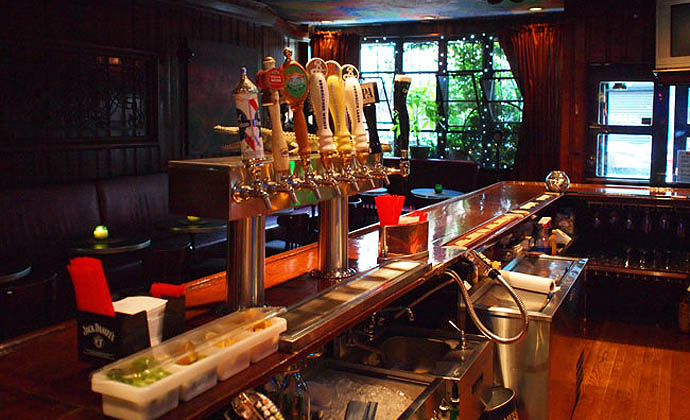 This much-hyped neighborhood may have long replaced many of its former residents with white bread yuppies, but the drink specials still sometimes manage to reflect incomes lower than what you need nowadays to move into Williamsburg. The following bars not only host some of the city's best happy hours, they also happen to exist within incredibly easy walking distance of one another, so you can stumble from Rosemary's to Lucky Dog to Trash Bar with only a miniscule chance of getting lost in between. The neighborhood's newfound upper class vibe can still get lost in these locations, where the lighting is low and the beer is just bad enough to taste delicious at $2 a pop.

Rosemary's Greenpoint Tavern (188 Bedford Ave.; 718-384-9539)
You hardly need the daily 3pm to 7pm happy hour at this old Williamsburg haunt. The bar's signature item of lore dwarfs the $3 drink specials. 32-ounce Styrofoam cups of Bud for $4 a piece naturally overshadow most happy hours, and these ones get served to you by bartenders whose pictures sit affixed to the wall, boasting of the bar's legacy and earlier days. In such pictures, the current bartenders still appear aged, giving them and the establishment even more street cred. The abundance of winking Christmas lights makes Rosemary's Greenpoint Tavern an even more inviting place to glug massive beers, happy hour or not.

Lucky Dog (303 Bedford Ave.; 212-555-1212)
If you can stand (or would love) having a bunch of canines zigzagging around your feet as you imbibe, this bar marks the perfect mix of dive, dog, and outdoor space. Though the patrons have quickly shifted from artists to hipsters to yuppies, the dogs remain just as adorable…and the cans of PBR and Schaefer are only $2 between 2pm and 7pm on Mondays through Fridays. Happy hour also entails $1 off all draughts and $3 cans of Miller High Life. This stands on Sundays from noon to 7pm, as well. Also, if you're looking to pick someone up, dogs serve as excellent conversation starters (and they don't even have to belong to either of you). Lastly, if dogs weren't enough of an attraction, the bar also has a shuffleboard table.

Trash Bar (256 Grand St.; 718-599-1000)
A bar that serves almost primarily as a destination for bands and a relatively small group of their followers, Trash Bar is pleasantly dark and molds to its name in the most delightful way possible. Forget happy hour and come to see whatever band is unpopular enough to have to lure people to the bar between 7pm and 8pm, when an open bar offers free liquor in exchange for filling the show's audience space. After you get your fill of free booze, stick around and the music gets better.

Maracuja (279 Grand St.; 718-302-9023)
Maracuja's backyard can look pretty enchanting if you stop in between 6pm and 8pm on any Monday through Friday for happy hour. Beer and shot specials include picklebacks, car bombs, and, of course, the beloved Jaeger bomb. Though the décor may confuse you (lots of multi-colored lights, an old piano, a new agey outdoor fireplace), the car bombs will confuse you more, albeit in a good way.

Cadaques (188 Grand St.; 718-218-7776)
Adding $1 oysters to your happy hour falls second only to taking on some $4 sangria. Cadaques gives you a hearty two and a half hours to consume both, along with $2 off wine by the glass and $4 beers. Though the beer pricing doesn't quite compare to Lucky Dog's $2 PBRs, who really wants to drink PBRs, anyways? Spending less on drinks here also means you get to save your cash for the stellar tapas menu.

Iona Bar (180 Grand St.; 718-384-5008)
Happy hour at Iona Bar is no scant occasion. Occurring every day from open until 7pm, this liberal interpretation of an "hour" means $4 well drinks and $5 for Stella, Pinot Grigio, Pinot Noir, and a variety of liquor options. This Scottish-themed pub also hosts traditional music from the northern UK and Ireland on Monday evenings at 8:30pm, so if you've been there all morning for the cheap booze, you can dance up a storm come nightfall (if you've still got it in you—in the spirit of Scotland, you may as well).

Feedback
How are we doing? Tell us what you like or don't like and how we can improve. We would love to hear your thoughts!