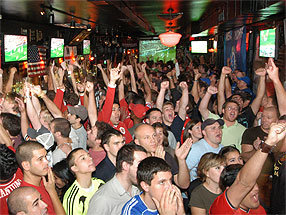 Address
300 w. 40th St.
(8th Ave. & 40th St.)
(917) 402-1510
nevadasmiths.net
Neighborhood
Manhattan - East Village
About
A rowdy, wild football-lover's paradise. And by football, we mean soccer. This spot shows over 100 live matches per week and has a huge beer selection. NOTE: Nevada Smith's hours are dictated by the broadcast schedule of English and International soccer. During the week the bar opens about 1 hour before the start of the day's first match, but the exact time will vary slightly throughout the year.