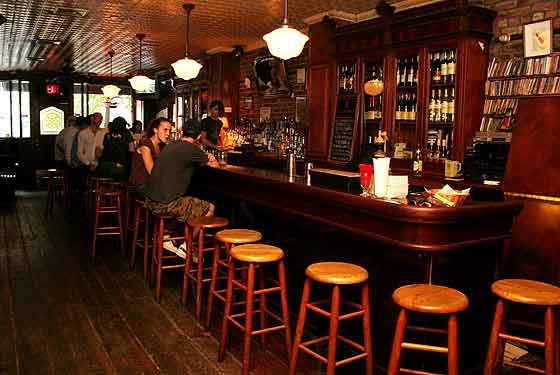 Address
510 E. 11th St.
(11th St. and Ave. A)
212-982-3929
11thstbar.com
Neighborhood
Manhattan - East Village
About
Drinkpoint.com
A classic Irish pub with the laid-back atmosphere of a dive bar. Sip a pint of Guiness (or any of the other beers from the solid tap selection) and enjoy live traditional Irish music weekly. The bar also shows English league football matches.
Monday
Happy Hour (4:00 pm - 9:00 pm):
$2 off all drinks
Drinkpoint.com
Tuesday
Happy Hour (4:00 pm - 9:00 pm):
$2 off all drinks
Drinkpoint.com
Wednesday
Happy Hour (4:00 pm - 9:00 pm):
$2 off all drinks
Drinkpoint.com
Thursday
Happy Hour (4:00 pm - 9:00 pm):
$2 off all drinks
Drinkpoint.com
Friday
Happy Hour (4:00 pm - 9:00 pm):
$2 off all drinks
Drinkpoint.com
Saturday
Happy Hour (4:00 pm - 9:00 pm):
$2 off all drinks
Drinkpoint.com
Sunday
Happy Hour (4:00 pm - 9:00 pm):
$2 off all drinks
Drinkpoint.com